British Airways Fights For Altitude
It ejects its CEO but may still be takeover bait
Stanley Reed
The only surprising thing about the Mar. 8 announcement in London was the timing: Why did it take so long? British Airways PLC has endured a succession of pratfalls and earnings disappointments since Robert Ayling took over as chief executive officer in 1996. Frustrated by Ayling's abrasive management, the board has finally dumped its pilot--even before it names anyone to take over the stick.
Whoever does replace the brainy but unpopular Ayling faces huge challenges. If the economics of the industry are turning in BA's favor, as its executives insist, it may not be too difficult to dig out of the estimated $400 million loss the airline is likely to report for the year ending Mar. 31. But some rivals think the troubles run deep--and that BA's cost-cutting, downsizing strategy is flawed. Richard Branson, CEO of Virgin Atlantic Airways and BA's most persistent critic, says only BA's dominant position at London's Heathrow airport has saved it: "If British Airways were any other company, it would have been driven out of business by now."
LETHAL MARKET. BA has clearly lost its leadership position in both the European and global markets. Unless it regains high altitude quickly, it could be takeover bait when an expected easing of the regulatory environment makes a radical consolidation of the European industry easier. Both Air France and Lufthansa, once considered also-rans, are now outperforming BA in what could be a long-term battle to be one of Europe's two or three surviving major airlines. While they have added flights and offered new routes, BA under Ayling did little to draw customers and seemed not to bother promoting economy-class business--as if its position at Heathrow left passengers with few alternatives.
To be fair to BA, overcapacity, price wars, and high fuel costs have made the airline industry a rotten place to work of late. BA's 30% share price drop over the last year is not that much worse than the European airline average of 24%. BA has suffered particularly from competition on its U.S. routes, where it makes most of its money. And regulators have refused to approve an alliance with American Airlines Inc., saying the two carriers would enjoy a near monopoly between Heathrow and the U.S.
In response, BA is downsizing radically. Passenger capacity will drop about 12% over the next three years. BA is replacing roughly half of its 330-plane fleet with smaller models. The idea is to chop total seats while boosting the proportion in business and first class. If it works, BA will regain the initiative. "I think the corner is turned, and we are moving in the right direction," says Colin Marshall, chairman and former CEO, who has temporarily replaced Ayling. As to the next CEO, Marshall says BA wants a team player to follow Ayling, a loner who alienated execs and the work force.
BIG MISTAKE? There are indeed some hopeful signs at BA. Premium traffic was up 11.6% in February from the previous year. The tough European market may be improving, and BA's relentless cost-cutting will take out about $400 million this year. While some analysts put 2001 profits in the $80 million range, Chris Tarry of Commerzbank sees BA earning $190 million next year.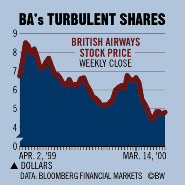 But giving up market share could be a critical mistake. "The successful airlines at the moment are driven by volume, not price," says Richard Hannah, airline analyst at Deutsche Bank in London. The pacesetters in Europe are the upstart and old-line airlines that are adding seats and cutting prices. If price-cutting continues--and it seems to be the way of the world--BA's strategy could prove a bust. BA has copied the discounters with Go, which offers bargain flights from outlying Stansted airport. But Go has yet to turn a profit.
The next year or so may define BA's future. While it still has many strengths, a strategy that backfires badly could even undermine the carrier's grip on Heathrow. British Airways' margin for error is steadily narrowing.
Before it's here, it's on the Bloomberg Terminal.
LEARN MORE