A Happy Ending To A Sad Winter's Tale
by
I sometimes wonder how our son would have survived a second winter in his native Moldova. Joel had a history of respiratory problems and rattled like a broken radiator from bronchitis when we first met him last April in the orphanage here in Chisinau, just days before his first birthday. Although spring had thawed this struggling Eastern European capital, he was so bundled in three layers of clothes that he bowed slightly at the waist. A pink-and-white wool hat was tied under his chin. I remember yanking it off, thrilled I could claim him as my son--and bring some American ideas about dressing to his caretakers.
Now, however, with fresh tales from the state-run orphanage of power outages, bitter cold, and meager food supplies, I believe those caretakers saved my son's life. I no longer chuckle about how they bundled him in May, when we returned to bring Joel home after our adoption was approved. Even then, they made sure he wore not one but two hats--theirs, which tied under his chin, and a knit cap we brought that didn't. In poverty-stricken Moldova, overdressing is one of the few ways orphanage workers can show they care.
Far from another horror story about overseas adoptions, the tale of how the 100 infants and preschoolers at the Municipal Children's Orphanage in Chisinau survive is one of remarkable commitment. Run by a government so destitute it often can't pay its workers, the orphanage scrapes by on the resourcefulness of its staff, adoption fees, and humanitarian aid organized by the New York area parents of nearly 50 thriving children adopted from it since 1994.
"In my view, they perform miracles with the little they have," says Julio Camarena. He and his wife, Anamaria Romandetto-Camarena, traveled to Moldova in November to adopt their 2 1/2-year-old daughter, Flavia Natalia. The couple has seen extreme conditions around the world. He is a U.N. staff member, and she is an American Express Co. manager for a U.N. program. Says Camarena: "The orphanage is extremely well-run and caring, but they have no resources. They have to fight to get bread and food on the table, and they have to fight the weather."
A proud country of just 4.4 million, Moldova has been rocked by natural disasters, energy shortages, a civil conflict in the eastern breakaway region of Transdniestr, and the floundering economy of its biggest trade partner--Russia--since winning independence from the former Soviet Union in 1991. Its gross domestic product has shrunk by 61% since then. Hip professionals with cell phones can be found in downtown Chisinau, but Moldova is one of Europe's poorest countries. Annual per capita income is about $500.
Although rich in farmland--Moldova was the Soviet Union's largest wine-growing region--it has no energy resources and depends on outsiders for power: Russia's natural-gas giant, Gazprom, supplies the bulk of it, and electricity companies in Romania and Ukraine provide the rest. Since November, fed up with Moldova's unpaid bills, all three companies have curtailed supplies or shut them off completely. Power outages are common.
CANDLE POWER. It was pitch black inside the Municipal Children's Orphanage at 5 p.m. on Nov. 9 when two American adoption workers, Alex Miller and Jennifer Goodbody, returned from buying food and medicine at a nearby market. "There was a candle up on the second floor and a flashlight for people to get around, but that was it for an orphanage with 100 kids," recalls Miller, who tours overseas orphanages as programs manager for Spence-Chapin Services to Families & Children in New York. "They had little food, no heat, and at that particular moment, no light. The electricity had gone."
It was so cold in the hallways that Goodbody remembers seeing her breath as the two tried to find the Camarenas and another American couple. "They were sitting in total darkness, each of them on a little chair holding their kids," says Miller. State-run orphanages, she says, are particularly vulnerable to economic crises: "If the society is falling apart, the orphanages are generally the last ones to get what's left."
The caretakers haven't been paid in months. Yet they show up every day. Government trucks delivering food, such as one seen by my husband, Paul Nadler, are nearly empty. So an ever-optimistic nurse takes parents to the market to watch as she bargains for food with money donated by Spence-Chapin. She insists they take photos of the food to prove the money was spent honestly.
Like our Joel, most children are relinquished to the orphanage because their families are too poor to care for them. "There's not that much stigma to taking your child to the orphanage," explains Goodbody, particularly in families with more than one child. "Parents think, `Winter is coming, and we don't have food, so let's take our child to the orphanage."' Some families visit their children there, and some hope to reclaim them, but often kids remain in orphanages until they reach adulthood. But this winter and last, food supplies were short even there. The children are malnourished because they don't get enough fruit, green vegetables, and proteins. Ironically, Moldova has an oversupply of hospitals, and sick children like Joel can get medical care.
Parents may roam through the two-story orphanage unannounced, as we did, and find clean but sparsely furnished rooms brightened by lace curtains, plants, pictures, and toys. "We were walking around the entire place like we owned it," recalls Julio Camarena. Like us, the Camarenas were struck by the close attention paid to warm clothing. Flavia's caretakers also insisted on tying a hat under her chin. We all came away haunted by the faces of the 60% to 70% of children who won't be adopted, either because their families won't agree to it or because they have special medical needs such as cerebral palsy and aren't as likely to be referred to American parents, most of whom seek children with correctable conditions.
NO HELP. Government officials are well aware of the children's dire straits. Dr. Maria Jechiut, the orphanage's director, pleaded her case before the central committee on adoption while Miller and Goodbody were there. "They were listening," Miller recalls, "but I think their resources were nil."
Indeed, Daniel Levine, a biochemist who has adopted twice from Moldova, met with health and education officials in November as a facilitator for the New York-based Dreyfus Health Foundation. He found the officials aware of the needs of the country's orphanages and grateful for support from Americans, many of whom were galvanized by the bitter conditions of the last two winters.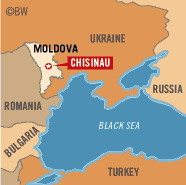 More than $40,000 was raised by Spence-Chapin (www.Spence-Chapin.org) last winter for an emergency fund to help 15 Eastern European orphanages, and a new drive is under way. Parents of Moldovan adoptees have launched a nonprofit group, Children's Help Net Foundation Inc. (www.childrenshelpnet.org), to finance long-term capital improvements for the orphanage and ongoing purchases of food, medicine, and clothes. They plan to install an oil-burning furnace, propane stoves, a generator for refrigeration, and new windows, says co-founder Levine. The support ranges from cash--the Camarenas raised $10,000 through their own donations, matched by American Express Co., and contributions from friends--to a pledge of plumbing fixtures and windows from the grandfather of two adoptees.
Soon, we will begin to tell Joel, now a robust toddler, about his first home in the Municipal Orphanage. And one day we hope to return to Moldova with him and our daughter, Elizabeth, now 6. It will be a roots journey for the whole family: My husband's great-great grandfather, Joel, lived a century ago in a small town only 110 miles northwest of Chisinau. In the meantime, tucked away in Joel's bottom drawer is our keepsake from the orphanage: a faded hat that ties under the chin.
Before it's here, it's on the Bloomberg Terminal.
LEARN MORE