Will Ignition Crank Up The Wireless Web?
This venture fund has $140 million that says it will
Jay Greene
Three years ago, after nearly a decade overseeing some of Microsoft Corp.'s most important businesses, Brad A. Silverberg needed to take a sabbatical to recoup. The wiry, bearded outdoorsman spent that time camping with his kids and riding his bicycle around North America. But it took only a modest investment last year in a Silicon Valley Internet startup--Tellme Networks Inc.--to convince him that his hiatus was over. "It was really intoxicating. It was rediscovering the joy of life," Silverberg says.
Now, Silverberg is back in action but not at Microsoft. He and seven other alumni of the software giant have joined with two executives from Craig O. McCaw's wireless company --Nextlink Communications Inc. to form Ignition Corp., one of the first investment firms devoted entirely to wireless-Internet startups. The group, which was formally launched on Mar. 9, raised $100 million from mobile-phone maker Qualcomm Inc., Internet-investment giant Softbank Corp., and Seattle's Madrona Venture Group. The 10 partners kicked in another $40 million of their own.
Their target is potentially huge. A handful of new technologies aim to make it easier for people to connect with the Web via a new generation of "smart" wireless phones and handhelds. By 2004, some 1.3 billion people are expected to have wireless access to the Web, up from just 5.7 million last year, according to International Data Corp. Ignition will invest in hardware, software, and services. "We're good at betting big and winning big," Silverberg says.
They were certainly big winners at Microsoft. Silverberg helped the company dominate the PC industry by developing its Windows 95 operating system, and later prodded Chairman William H. Gates III to move aggressively into the Web browser business. Another partner, Richard Tong, was the marketing whiz behind the company's BackOffice products for corporate computer systems. Partner Chris Peters created Microsoft's Office suite of productivity software.
The team does have a weakness: It's short on experience in the wireless realm. Only two of the Microsoft eight have any background in mobile communications. To make up for its deficiencies, the group recruited Nextlink's former CEO, Steven W. Hooper (who remains at Nextlink as a senior vice-president), and former chief financial officer Kathleen H. Iskra.
Still, inexperience could be a problem. Previous attempts to make wireless computing take off have flopped. And, according to wireless-industry veteran William Frezza, now a venture capitalist at Adams Capital Management, it will be many years before there is cheap and effective mobile Internet access. Only those with in-depth knowledge will succeed. "To the Microsoft guys, I say, `Lots of luck,"' says Frezza.
The company's backers aren't fretting. The mix of McCaw and Microsoft alumni persuaded Qualcomm to make its first-ever investment in a venture fund. "Here are the guys who built Microsoft's core business, and they're out there looking to partner and drive wireless-data usage. That can only help Qualcomm's core business," says Qualcomm Senior Vice-President Paul E. Jacobs.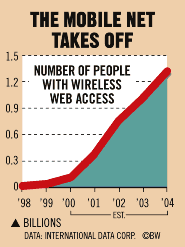 Ignition isn't a traditional venture capital firm. It plans on investing in only 10 startups so that its partners have time to act as mentors. That means Ignition will own big stakes in its portfolio companies--perhaps 25% or more. "When you invest in 5% of a company, it's hard to have enough of a say to make a difference and to get super-excited," explains partner John Ludwig, who worked on Microsoft's Net projects.
Ludwig and his colleagues don't seem to have shaken off any of their Microsoft intensity. Partner Jonathan Roberts juggled the company's launch with the birth of his second child. Only hours after Winston Theodore Roberts was born on Feb. 29, Roberts whipped out his cell phone and got back to work. "We feel like we have fire in a bottle," says Silverberg. And, like the early days of Microsoft, they're on the barricades again.
Before it's here, it's on the Bloomberg Terminal.
LEARN MORE