Why Psion's Stock Is Acting So Frisky
A big Symbian stake gives it a jump in mobile Web surfers
By
It's one of Europe's last computer companies, and at first glance, Britain's Psion PLC looks like roadkill waiting to happen. The maker of handheld computers saw revenue drop last year, as 3Com Corp.'s PalmPilot stormed the Continent. And now, following its splashy Nasdaq launch on Mar. 2, powerful Palm Inc. appears poised to deliver the death blow.
So why has Psion's own stock been acting so frisky, multiplying more than five times since Oct. 1? Fact is, the British company holds an ace in the hole, a 28% share in the software consortium Symbian. Backed by Psion, Nokia, Motorola, Matsushita, and Ericsson, London-based Symbian is crafting Psion's operating system into a platform for Web-surfing palmtop computers and cell phones. That's a market that barely exists today but could reach 1.3 billion units by 2003, according to International Data Corp. Analysts predict that this growth could turn Symbian, which will charge $5 to $10 per device, into a billion-dollar software power. "It's largely Symbian that's driving Psion's stock," says Dennis Gross, analyst at Williams de Broe in London.
The challenge for Psion is to survive as more than a piece of Symbian. To do that, it must hack out a niche in the bruising hardware market. Here the company, led by 37-year-old CEO David Levin, faces a Who's Who of tech powers, from Palm and Microsoft Corp. to fellow Symbian partners Nokia and Ericsson. This is the crowded intersection of phones and computers, and Psion stands smack in the middle. It's more familiar with phones than the Americans and more computer-savvy than European phonemakers. The trick for Levin is to catch the traffic going both ways--without getting flattened.
To survive, he's counting on burly friends. In the U.S., where Psion's a virtual unknown, Levin has signed partnerships with IBM and Sun Microsystems Inc. targeting the corporate market. The idea is to get Psion's Web-surfing palmtops into company workforces, giving far-flung sales staffs, for example, powerful mobile links to the company intranet. Meanwhile, he has teamed up with Motorola Inc. to produce a zippier mobile surfer for consumers. Expected out early next year, it will boast a palm-size color screen, contact lists that are dialed with the touch of a stylus, and a speaker phone. Each company will produce the machines under its own brand. "This thing will connect to the Internet like a PC," Levin says.
Levin's biggest immediate challenge is Palm. The California company doubled its sales in Europe last year, passing Psion in market share, says David Weilmuenster, Palm's director of strategy and planning. Under the attack, Psion's sales fell 6%, to $235 million, while earnings, independent of Symbian investments, tumbled 18%, to $17 million.
Psion is battling back with a new line of products and a $150 million purse for buying Net startups. But Palm is busy staking out its own place on Europe's Net. It's building an alliance with America Online Inc. to offer Internet connections, and it's working with Nokia to put Psion's popular interface on the next generation of small smart phones. "The breadth of our applications is far more diverse [than Psion's]," says Weilmuenster.
Sounds ominous. But Levin pooh-poohs Palm as king of a dying industry: pocket planners. He says the Palm system, built on a 16-bit processor, can handle only rudimentary Internet applications. Psion's 32-bit system will permit users to do two things at once, such as talking and Web surfing, says Levin.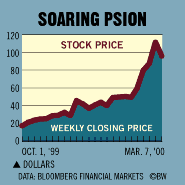 COZY TIES. Still, Levin faces plenty of competition. Microsoft, working with computer makers from Compaq Computer Corp. to Hewlett-Packard Co., is pushing similar full-powered pocket surfers. Perhaps more fearsome will be machines coming from Psion's partners in Symbian. Their offerings will run on the same Symbian software as Psion's. And unlike Psion, they enjoy cozy relations with the phone companies--by far the leading vendors of mobile phones. What's more, the phone companies are racing ahead. Just last month, Ericsson stole a march on the industry by demonstrating a flashy prototype for a color Web surfer--virtually the same product Psion is building with Motorola.
Levin's bet is that he just needs a sliver of this new market for Psion's sales to take off. He calculates that between them, Psion and Palm have sold only 10 million machines. "That's a week's production in the mobile-phone industry," he says. Mobile is the white-hot market he's after. And with Psion Web surfers and Symbian operating systems, Levin has two top dogs in the race.
Before it's here, it's on the Bloomberg Terminal.
LEARN MORE