U.S.: What Keeps Turbocharging This Race Car?
Growth looks unexpectedly higher in early 2000, stoking inflation fears
by
Do recent weak-looking reports from the labor markets and housing offer some hope that the economy is cooling down to a more manageable pace, following its blistering 6.3% growth rate in the second half of last year? Not really. When you look at all the other available data on the first quarter, they don't add up to much of a slowdown. In fact, a 5% growth rate this quarter is not out of the question.
In particular, numbers on key sectors of demand provide no corroboration that February's slim 43,000 gain in payroll jobs was anything more than a weather-related fluctuation following exceptionally strong job growth in both December and January, when payrolls increased 309,000 and 384,000, respectively. The running six-month average of monthly job gains has actually accelerated, to 230,000 per month in February, from just over 200,000 per month last summer.
Here's what we know about the first quarter so far, and what it portends for gross domestic product: First, consumer spending, the economy's leader during the past two years, is not slowing at all. If February and March outlays grow only at January's modest 0.3% monthly pace, first-quarter consumer spending will rise 5.8% at an annual rate. That would be slightly faster than the 5.4% pace in the second half of 1999.
FEBRUARY SPENDING may not be so modest, though, based on the month's phenomenal 19 million annual rate of car sales (chart). Analysts used that same adjective to describe January's 17.7 million pace. To put February sales into perspective, 1999 was a record year for car-buying, with sales totaling 16.8 million. The January and February average represents an annual growth rate of 40% from the fourth quarter, suggesting a sizable boost to growth in overall outlays.
Consumers are also picking up their borrowing pace. They increased their outstanding installment debt by a huge $17 billion in January, the largest monthly rise in more than four years, as gains in wealth bolster households' willingness to borrow. Consider also that tax refunds so far this year are running some 20% ahead of last year, another source of extra cash for households.
The first quarter's strength goes beyond consumers, however. Equipment outlays in the GDP data slowed sharply last quarter, as many companies curtailed new spending, while waiting to see how the Y2K date change might affect future spending. Now, capital spending by businesses on new equipment is set to rebound from last quarter's slowdown, perhaps strongly.
January shipments of capital goods, not adjusted for prices, surged 4% from December. The month's level already shows a 21.7% annual rate of growth vs. the fourth quarter. January output of business equipment also accelerated significantly. These early data suggest that first-quarter growth in equipment outlays in the GDP accounts is likely to be at least three times faster that the fourth quarter's slim 4.7% annual rate.
Moreover, based on the January data on construction spending, a first-quarter reversal of the huge fourth-quarter jump in government spending may be much smaller than originally expected, partly reflecting election-year pork. Public construction, mainly roads and bridges, surged again in January, after outsized gains in November and December. Through January, the three-month growth rate of public construction is the fastest in two decades.
Of course, inventories and foreign trade are always crucial swing factors in any quarter, and right now there is only scant first-quarter evidence on either. A reversal of pre-Y2K inventory building is likely, but amid such strong demand, some additional beefing up of stockpiles seems likely as well, especially since inventories are so low relative to sales. In January, manufacturers increased their stock levels by 0.3%, the same as the average monthly pace during the fourth quarter.
INDEED, MANUFACTURING OUTPUT appears to be speeding up in the first quarter, hardly a sign that inventory growth is slowing down. Despite the generally weak tone of the February employment report, the job data from the factory sector continue to show more strength, as they have in recent months (chart).
Factories added 5,000 workers to their payrolls last month. The nearly uninterrupted string of declines since the spring of 1998 ended in November, and since then, job growth, while slow, has posted the best four-month gain in almost two years. The factory workweek continued to lengthen, and overtime also neared a two-year high.
More factory jobs and hours mean that February industrial production posted another solid advance. Manufacturing output is on a pace to grow at least at a 7.5% annual rate in the first quarter, up from a 6.6% rate in the fourth quarter, a speedup reflecting both stronger exports and powerful domestic demand.
SURGING PRODUCTIVITY GROWTH has been an important firewall against red-hot growth in demand. Productivity in the nonfarm sector rose at a stunning 6.4% annual rate in the fourth quarter, based on the Labor Dept.'s revised data. For all of 1999, productivity advanced 3%, the best annual showing since 1992. Moreover, unit labor costs rose a slim 1.7% for the year, suggesting little cost pressure, despite exceptionally tight labor markets.
But that already terrific pace of productivity may have to speed up even further in 2000 in order to assure that inflationary pressures do not flare up. Keep in mind that compensation last year rose 4.8%, and the pace this year is more likely to quicken than hold steady, especially since a continuation of the recent pace of job growth would take the unemployment rate down to the 3.5%-to-4% range by the end of the year.
To the extent that compensation accelerates, productivity will have to grow faster in order to keep unit labor costs from accelerating. In an economy with demand this strong, companies that face cost pressure will more easily find some additional pricing power.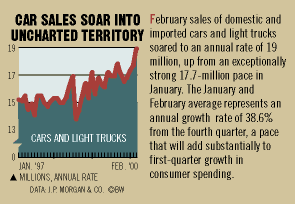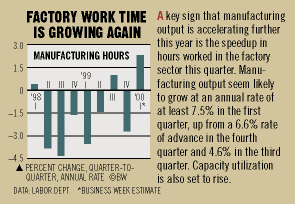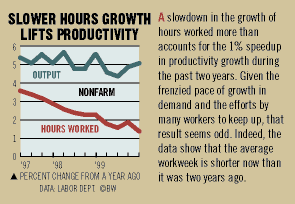 There is also yet another debate growing over the quality of the productivity data: the measure of hours worked. The productivity data show that from 1997 to 1999, output per hour sped up from 2% to 3%. However, output growth actually slowed from 5.3% to 4.7%, while a sharp slowdown in the growth of hours worked, from 3.3% to 1.7%, more than accounted for the acceleration in productivity. In an economy this strong, with many workers struggling to keep up, such a large drop-off in the growth of work time looks odd. In particular, the data show that since early 1998, the workweek is actually shorter (chart).
Regardless of what you believe about productivity, one fact remains clear from the data: The economy has begun 2000 far faster than almost anyone had anticipated, and the risk of higher inflation--and higher interest rates to combat that threat--continues to rise.
Before it's here, it's on the Bloomberg Terminal.
LEARN MORE