Tight Labor? Tech To The Rescue
Companies are turning a squeeze into a swell of productivity
Joseph Weber
Facing the tightest labor markets in 30 years and demand that just won't quit, managers at U.S. Gypsum aren't even breaking a sweat. Dangerously complacent? No. When orders flood in, they turn to a new $110 million factory in Bridgeport, Ala., that churns out 110 miles of drywall every 24 hours. That's twice as much per worker as in its older plants. Even better, U.S. Gypsum has three more coming on line this year that will be just as efficient. "We've improved productivity tremendously," says Chief Executive Edward M. Bosowski. "We've had to, because you're going to have much slower growth in the labor pool going forward."
Across Corporate America, the story is the same. With a jobless rate at 4.1%--and far lower in some spots--most companies face a major headache as "Help Wanted" signs linger and jobs go unfilled. But there's a silver lining in this labor-scarce cloud. Grappling with what is effectively full employment, companies have made a bad situation far more manageable by pouring money into technology in a bid to lessen the need for workers. "The fortunate thing is that we have this tight labor market just at the moment when we have a huge explosion in technological answers to it," says Alice M. Rivlin, former Federal Reserve vice-chairman and senior fellow at Brookings Institution.
Moreover, the investments are behind a huge rise in productivity--and go a long way toward explaining why the U.S. economy continues to grow rapidly without inciting any of the wage inflation that would normally be expected. Productivity figures released by the Labor Dept. on Mar. 7 demonstrate Corporate America's uncanny knack for keeping the expansion going by continuing to find new ways of getting more out of its workforce. Productivity charged ahead at a stunning 6.4% annual rate in the fourth quarter, up from 5% in the third. "The declining price of capital and the rising price of labor are strongly encouraging companies to substitute capital for labor," says Chris Varvares, president of Macroeconomic Advisers in St. Louis. "That will raise the economy's non-inflationary speed limit."
SELF-SCANNING. Indeed, the challenge of doing more with fewer people is triggering a big uptick in spending on business equipment. While orders for other durable goods are sliding, companies are opening their wallets for everything from computers to machine tools. Such nondefense capital-goods orders for the three months ending in January were up 13.5% over a year earlier, the best gain since early 1998.
Of course, no one has invented the workerless workplace--but not for want of trying. Even in the most unlikely places, new technology is cutting down on the workload. NCR Corp. and IBM, for instance, are marketing self-scanning checkout systems to the likes of Kroger, Stop & Shop, and Wal-Mart Stores. While the technology remains mostly experimental, broader acceptance could come this year as retailers find it tougher to get good cashiers--or any cashiers. "We've had more [sales] activity in the past three months than in the past three years," says Lynn E. Rolloff, an IBM marketing manager.
Problematic as it is, the worker shortage could accelerate lots of long-simmering innovations. Companies have plenty of money--and incentive--to figure out how to use their limited staffs more efficiently. The labor shortfall "makes the design and development of labor-saving equipment more practical," says Murray A. Gerber, vice-chairman of tiny Prototype & Plastic Mold Co. in Middleton, Conn. He is installing high-tech molding gear that boosts staff productivity at his $8 million-a-year outfit.
There's another advantage: Unlike annoying voice mail or automated phone-operator systems, the latest labor-saving innovations may prove a hit with consumers. Consider the self-service kiosks popping up in front of some airline check-in counters. These automated agents make it possible for a customer to pick up a boarding pass by popping in a credit card or a frequent-flier card after buying an electronic ticket by phone or on the Net.
The kiosks help cut the need for workers. "Airport automation products that we have or will put in place in the future will allow us to grow our staff at slower rates," says Edward W. White, vice-president for customer service at Alaska Airlines. But customers, too, seem happy to bypass human contact. White says Alaska's passengers like the kiosks so much that fully one-quarter of them used the system to check in last year. Now the airline is setting up kiosks at parking lots and hotels near airports to make access even easier.
Of course, the biggest labor-saver may well be the ability to move operations onto the Web. While it's something of a double-edged sword--Net jobs are drawing away huge numbers of talented people--the Web is also proving to be the most powerful tool for dealing with labor shortfalls. From old-line manufacturers such as steelmaker Nucor Corp. to Web-savvy brokerages, companies are finding that e-commerce lets them make far more sales per staffer than any previous technology. Just five years ago, for instance, discount broker TD Waterhouse Group Inc. was handling about 10,000 stock trades a day, most by phone, with a back-office staff of about 150. Staff has doubled since then, but the volume of stock they handle has risen a staggering 20 times.
MANTRA. For veterans of the Net--who have been competing for scarce talent a lot longer than most--the efficiency drive has almost become a mantra. Cisco Systems Inc. says it has saved nearly $2 billion over the past four years by implementing Net-based ordering, manufacturing, human resources, and finance systems. That cuts the need for a lot of live bodies and has yielded Cisco juicy revenues of about $700,000 per worker--nearly two-thirds higher than average for Standard & Poor's 500-stock index companies.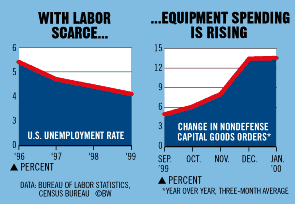 Even the company's hiring process has become a virtual affair. Potential new hires are urged to submit their resumes electronically and fill out an online questionnaire that is then screened by artificial-intelligence software. Such labor-saving moves are critical at Cisco, which is adding more than 2,000 workers per quarter.
Of course, technology isn't the only answer to the labor squeeze. Some Washington State apple growers have found a distinctly low-tech solution: They're switching to shorter trees, which makes picking far easier and faster. For most of Corporate America, though, when it comes to productivity gains, such low-hanging fruit is long gone.
Before it's here, it's on the Bloomberg Terminal.
LEARN MORE