Those Truck Guys From Tokyo
Now even Detroit's pickup market isn't safe from Japan ese
David Welch
Phil Behnke is just the kind of buyer Detroit doesn't want to see. The 25-year-old has typically driven a good ol' Chevy truck. But just a few months ago, he went to Classic Toyota in Waukegan, Ill., and drove off with a new Toyota Tundra pickup. "I'm an American-truck kind of guy," Behnke says. "But this gets better gas mileage, and their engines are supposed to last forever."
So much for Detroit's last bastion of consumer loyalty: the market for full-size pickups and sport- utility vehicles. Not only is Toyota Motor charging ahead with its popular new Tundra, but Nissan Motor is ready to jump into the fray, and Honda Motor is considering it.
In February, Nissan Motor Co. asked suppliers to bid on parts for a full-size pickup, expected to hit the market as soon as mid-2003. Though Nissan Div. General Manager John E. "Jed" Connelly won't confirm the project, he's already talking like a contender. He brags that Nissan's pickup would match Detroit's in size and power, unlike the slightly smaller Tundra. Toyota Motor Corp., meanwhile, is looking to double production to 300,000 units within two years at its Princeton (Ind.) truck plant, where it will also build the Sequoia SUV this fall. And Honda could add a big pickup within five years.
Indeed, after years of slow progress in cracking the truck market, the Japanese are finally gaining traction. Their truck sales in the U.S. last year rose 38%, to 713,000 units, boosting market share to 8.6%. Much of that is in the minivan market, where Honda Motor Co.'s two-year-old Odyssey is gaining speed. The Tundra grabbed 43,000 sales, up from the paltry 8,000 annual units of its underpowered predecessor, the T-100. And Toyota expects to sell more than 100,000 Tundras this year.
PRICE PRESSURES. With even better Japanese products on the way, Wall Street is bracing for some damage. "Price-cutting will be unavoidable," says Merrill Lynch & Co. analyst John A. Casesa. Slowing sales and higher gas prices are already pushing Detroit to offer rebates of up to $1,000 on big pickups. Casesa estimates that the Big Three's profits average $4,000 to $8,000 per pickup and $6,000 to $12,000 per full-size SUV. Toyota's new Sequoia alone could snatch $175 million in after-tax profits from U.S. auto makers in 2001, he figures.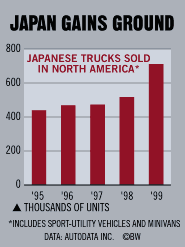 Still, Detroit may have learned from the drubbing it took from Japanese cars in the '70s. To defend their turf, the Big Three are readying creative products that combine the SUVs' passenger space with pickups' hauling capacity. "As long as we lead in innovation, we'll stay on top," says Gurminder S. Bedi, Ford Motor Co.'s vice-president for North American trucks.
The Japanese are nimble, too. Nissan could easily build a sport utility based on its big pickup. And Toyota is looking to build brawnier versions of the Tundra. Insists Toyota Div. General Manager Donald Esmond: "We just want our fair share" of the truck business. If buyers like Behnke are any indication, they'll get that and more.
Before it's here, it's on the Bloomberg Terminal.
LEARN MORE