Smile For Concord's "Eye Q" Camera
by
When Concord Camera (LENS) was highlighted in this column on Sept. 6, 1999--in anticipation of the rollout of its own digital cameras--it was trading at 7 3/8 a share. The stock has since staged a bravado performance, zooming to 45 3/4 on Mar. 8. Is this the end of the line for Concord? By no means, say some money pros. At a trade show in February, Concord introduced its first digital camera--called "eye Q." Starting this summer, it will be sold on a private-label basis to selected retailers. "We believe this camera will be a huge success for Concord," says Chris Quilty of Raymond James & Associates, an investment firm in St. Petersburg. He predicts the digital camera will generate sales of $8 million in 2000 and $15 million in 2001. He expects Concord will ship 10,000 units a month on average. A competing Canon digital camera has an estimated monthly volume of 40,000 units, says Quilty, and Polaroid's digital version, priced at $500, is selling about 35,000 a month. Concord's eye Q is the smallest, lightest, and least expensive digital, apt to be priced at $120 to $150.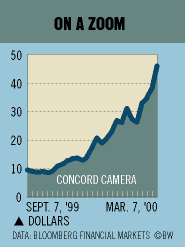 The fourth-largest maker of single-use cameras, Concord is an original-equipment supplier of certain cameras to Polaroid, Eastman Kodak, and Minolta. Concord also makes private-label cameras for mass retailers, including Wal-Mart Stores, Eckerd, and Walgreen. Quilty figures that Concord will earn $1.15 a share, on sales of $168.2 million, in the year ending June 30, 2000, and $1.44, on sales of $193.3 million, in fiscal 2001.
But the best is yet to come, says a big investor who is close to management: In collaboration with a major overseas cell-phone maker, Concord has developed a phone capable of taking pictures that can be transmitted to the Internet via cellular airwaves. "It will be a blockbuster product," says the investor, who owns nearly 5% of the stock.
Before it's here, it's on the Bloomberg Terminal.
LEARN MORE