Mexico: Help Wanted Badly
Manufacturers are scrambling for skilled workers
Elisabeth Malkin
Edgardo Saucedo was fed up with his job at a brewery. The pay was good, but the company wouldn't train him or give him a permanent job. So earlier this year the 20-year-old machinist walked out and went to work for Nemak, a fast-growing auto-parts company in an industrial suburb of Monterrey. "I prefer a job where I can start at the bottom but have some security and a chance to move up," says Saucedo, whose gel-spiked hair is a hip counterpoint to Nemak's regulation blue overalls.
Saucedo has good reason to feel confident. As new investment, both foreign and local, pours into Monterrey, Mexico's industrial capital, companies are faced with a shortage of skilled labor. They're scrambling to attract and retain workers with a technical degree plus some solid experience--machinists, tool-and-die makers, and welders, as well as skilled workers in other trades. Companies that can't find enough qualified personnel have to invest in training, on their own or in partnership with local schools. Not surprisingly, starting salaries for skilled workers have climbed to $90 to $100 a week in Monterrey's Nuevo Leon state. That may not seem like much, but two-thirds of Mexicans earn less. "The economy is definitely growing, and there's more demand for labor," says Armando Tamez, Nemak's executive vice-president for commercial and product development. "We think the cost of labor will keep rising."
That's quite a change for Mexico, where low wages and high turnover have long been the norm. With millions of low-skilled workers willing to work for $5 or $6 a day plus benefits, companies typically make up what they lack in productivity with manpower. But manufacturers now are feeling the effects of four years of robust economic growth, averaging an annual 5.1%, and $11 billion a year in foreign direct investment--most of it directed at the export sector.
From the maquiladora-heavy northern border to the highly industrialized center of the country, companies report they are running into labor shortages. "It takes a lot longer to fill 100 places," says Francisco Rodriguez, director of human resources at Grupo IMSA, a steel, auto-parts, and construction materials conglomerate in Monterrey. To reel in new employees and hang on to existing ones, IMSA hiked real salaries by 6% to 8% last year. Rodriguez predicts that wage pressures will be even stronger this year. "Workers know they have more options," he says.
That's true. In Nuevo Leon, the local manufacturing industry chamber estimates that the shortfall in skilled workers amounted to 35,544 last year. That's up from 19,096 just two years earlier (chart). Thanks in large part to this deficit, Salvador Gutierrez, a chamber official and director general of auto-parts maker Industria Automotriz, figures that salaries rose an average of 14% in Monterrey last year, vs. 5% to 6% nationally. It has gotten so that some businesspeople have asked Nuevo Leon's government to stop promoting the state to prospective investors, out of fears that rising wages will eat into competitiveness.
Companies are having to make do, training welders or tool-and-die makers themselves or hiring newly-minted engineers to do the work. At Nemak, new hires get some 400 hours of training in their first two to three years with the company, at a cost of $4,000 to $5,000 per employee. Nemak, the auto-parts division of Monterrey steel and petrochemicals giant Alfa, also pays its workers 10% to 15% above market wages, which helps reduce turnover. A machinist or metal worker with a couple of years' experience earns about $135 a week. Work clothes, transport, subsidized lunches, vacation pay, plus the traditional Christmas bonus and other benefits add 75% to 100% to base pay.
PAYOFF. For the company, the extra expenses pay off. Tamez boasts that productivity at the company's plant grew by more than 9% last year, nearly double the estimated industry average. That means Nemak doesn't need to hire as many new workers. Productivity gains, along with improvements in product quality, also help the company land new contracts. Nemak, which supplies cylinder heads and engine blocks to auto makers in Mexico, the U.S., and Europe, expects sales to soar to as much as $600 million in the next three years, from $320 million in 1999.
Yet the private sector on its own can't address the vast national deficit in skilled workers. That's the responsibility of Mexico's overstretched education system. The federal government, with assistance from some companies, has set up two technical junior colleges in Monterrey, both offering a two-year degree. Meanwhile, the Nuevo Leon government has funded three technical training centers for unemployed workers. The irony is that the state now has enough places in technical schools--39,326 by the manufacturing chamber's count--to take care of its worker shortage, but only 62% of them are filled.
Meanwhile, many of those who enroll in technical schools, often those with lower incomes, drop out to take a job to help support their families. In fact, only 55% of Nuevo Leon's technical students graduate. Jose Espinosa, a 19-year-old who is finishing up a technical degree, knows that it can be difficult to stick it out. "If you like the money too much, you stop studying altogether," he says, looking up from an application form he's filling out at a job fair in Monterrey's gleaming exhibition center. The answer, argues Sergio Anguiano, the manufacturing chamber's director of services, is a public awareness campaign to educate Mexicans on the advantages--and paychecks--that come with a technical job.
To improve their graduates' chances of landing well-paying positions, Nuevo Leon's technical schools are working closely with prospective employers in the area. At the Alvaro Obregon Industrial & Technical High School, director Jose Efren Castillo is lobbying businesses to donate the kind of sophisticated machinery that they have on their plant floor so students can get practical training. So far, General Electric Co. and Cooper Lighting have come forward. "The closer the relationship is with the company, the better it is for the students," says Castillo. He's right on the money: Starting salaries for graduating machinists rose 25% last year.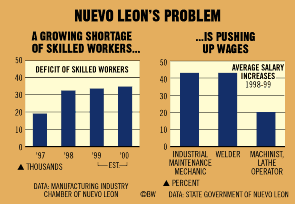 If Mexico, for the first time in a quarter century, manages to get through this year's presidential election without an economic crisis, wages should keep rising. Companies are learning to live with it. "Globalization demands that you pay more for labor," says Gutierrez of Industria Automotriz. "We have to learn how to absorb the increases and compete on productivity."
For companies such as Nemak, that shouldn't be a problem. Tamez believes that profitable businesses should "share the wealth." He recalls Henry Ford's maxim that each of his workers should earn enough to be able to buy his own car. If things work out for Edgardo Saucedo, the new hire at Nemak, he may soon have a new set of wheels.
Before it's here, it's on the Bloomberg Terminal.
LEARN MORE