Germany: A Stronger Euro Could Slow This Engine
Germany's recovery continues to be moved along by gains in exports, a growth engine at risk if a tighter monetary policy starts to lift the euro.
In the fourth quarter, real gross domestic product rose 0.7%. That was slightly below expectations, but third-quarter GDP growth was raised to 0.9%, from 0.7%. Exports were up 0.8% in the fourth quarter after a 3% jump in the third (chart). Over the four quarters of 1999, German GDP rose 2.3%, while exports alone were up 9%.
At yearend, consumer spending and inventory accumulation added to growth as well. But government purchases remained weak, and business investment on nontraditional goods, mostly computers, continued to slow. That likely reflected a wait-and-see attitude among companies until after the computer date changeover on Jan. 1. Now, with Y2K worries past and business confidence high, spending on high-tech equipment should pick up soon.
Real GDP is expected to grow 3%, to 3.5% in 2000, but much of that gain will be concentrated in foreign shipments. That should help Germany's employment situation, which is only slowly improving. February's jobless rate dipped to a four-year low of 10%, little changed from January's 10.1%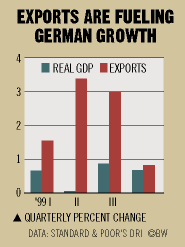 As with other economies in the euro zone, Germany is benefiting from the fall of the euro, which makes exports cheaper outside the zone. The risk to future gains in foreign demand is that the euro will strengthen in response to a hike in interest rates by the European Central Bank, along with stronger economic growth in the euro zone when compared with the U.S. The ECB held its policy rate at 3.25% in late February, but analysts project a hike soon, especially with the Federal Reserve expected to hike on Mar. 21--and by more later this year.
The ECB will lift rates because the jump in oil prices has boosted euro inflation to its 2% upper target limit. In Germany alone, consumer prices were up 1.8% over the year ended in February. That's low, but the rate has more than doubled just since October.
Before it's here, it's on the Bloomberg Terminal.
LEARN MORE