For Soft Is Making Forays In America
by
For an Israeli company, ForSoft Ltd. (FORS) has been signing up a lot of U.S. blue chips. Among the strategic allies of this info-tech service provider are 3M, Goldman Sachs, and Ernst & Young. ForSoft has just signed up DoubleClick, a leading Internet ad company, as a client. ForSoft has an online service where clients can post their IT staff and consulting openings for specific projects. ForSoft has a roster of qualified IT consultants who bid for them. "DoubleClick will help triple U.S. sales, currently totaling $5 million," says a ForSoft insider.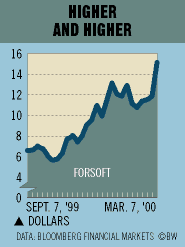 ForSoft Inc.--ForSoft Ltd.'s U.S. unit--has been bolstering its presence in the U.S. Non-Israeli sales took a leap in the fourth quarter of 1999, accounting for 30% of total revenues. Sales should more than double, thanks to ForSoft's foray onto the Internet through its consultingdirect.com subsidiary. ForSoft also serves as an outsourcing solution for its clients' IT needs, including information systems and software applications.
Lior Bregman of CIBC World Markets expects ForSoft to post earnings of 62 cents a share in 2000, on revenues of $80 million.
ForSoft stock has been on a roll, bolting from 5 in mid-October to 15 1/16 by Mar. 8.
Before it's here, it's on the Bloomberg Terminal.
LEARN MORE