Commentary: Not Much Mileage In Opec's Mercy
Stanley Reed
After a stretch of near panic that sent oil prices over the $34-per-barrel mark, the oil markets got some relief on Mar. 8 following a meeting in Riyadh between Iranian Oil Minister Bijan Zaganeh and his Saudi counterpart, Ali al-Naimi. The Iranians had been adamantly resisting Saudi efforts to raise production, but this time the Iranian minister agreed that OPEC must "provide timely and adequate supplies." A source in the Persian Gulf added: "I think the problem is over. Enough oil will be provided to relax the markets."
Another bit of good news came with reports that U.S. crude inventories rose unexpectedly in the week ended Mar. 3; that, too, cooled the markets. Together, the moves helped send crude prices tumbling back down to around $31 per barrel, an 8.4% drop, on Mar. 7.
But though much of the tension that had enveloped the oil market evaporated as quickly as it had formed days earlier, it's hardly time to celebrate. It looks increasingly unlikely that prices will quickly recede to the $18-to-$20-per-barrel level that the industry thinks is optimal. Like it or not, the world is going to have to live with expensive oil for some time.
That is because last year's production cutbacks have succeeded beyond OPEC's wildest dreams. With surging demand outstripping supply by 2 million barrels per day and more for months, the U.S. and other countries have drawn down crude and product stocks to the lowest levels since 1996, when prices also spiked. But demand now is a lot higher than it was then. The U.S. and European economies are both hot, and Asia is recovering. With inventories at rock bottom, prices could stay high well into next year, says Sharif Ghalib, senior analyst at the Energy Intelligence Group in London. Indeed, futures prices for next March are close to $25 per barrel. And even a major fall of $10 a barrel would leave prices well above their averages in recent years.
Ghalib suspects that Saudi Arabia's desire not to sour its recently improved relations with Iran may also work to keep prices higher. The Saudis, OPEC'S heavyweights, have been trying to forge a consensus for a production increase that would bring prices down. But the Iranians have led a small group of OPEC producers that were adamantly opposed. Now the Iranians look ready to compromise. But to keep them on board, the Saudis may well have to agree to a smaller boost than market conditions merit. The Iranians, who have little spare capacity, have nothing to gain from lower prices.
TOO WARY? Analysts say that the markets will be dismayed if OPEC doesn't come up with something substantive when it meets on Mar. 27. At least 1.5 million barrels per day in extra OPEC production is needed to ease the current situation. But the OPEC members are very wary of increasing too much. They remember that the last round of quota boosts in '97 led to prices tumbling to near $10 per barrel. The danger is that, to prevent another such slide, they may err on the low side.
Whatever it decides, OPEC is waiting until very late to make adjustments. Markets already show signs of shooting out of control. A political disruption in Iraq or Nigeria could easily lead to a price spike.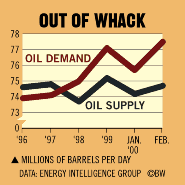 Right now, traders are focusing on U.S. gasoline stocks, which are dangerously low as the summer driving season approaches. Normally, the oil industry builds stocks to a peak around Apr. 1, then runs them down through the summer. But this year, refiners have been stingy with their runs because they don't want to buy crude at such stiff prices. The result: Gasoline stocks are at the ultralow levels usually seen around Labor Day. Roger Diwan, managing director at the Petroleum Finance Co., a Washington-based oil consultancy, says $2.50-a-gallon gas and lines at the pump are a real possibility without a much bigger boost in crude supplies than now looks likely.
Also, it takes four to six weeks for oil to reach the U.S. from the gulf. So any hike agreed to in early April won't show up physically until mid-May. "Prices are going to stay high until real barrels hit the market," says Peter A. Gignoux, who runs the trading desk at Salomon, Smith Barney in London. And the chances of enough of those barrels hitting anytime soon look pretty slim.
Before it's here, it's on the Bloomberg Terminal.
LEARN MORE