Chapter 11 Never Looked So Good
Why more public companies are declaring bankruptcy
Dean Foust
When the Justice Dept. began investigating price-fixing allegations against SGL Carbon, the German company had an unusual response. It quickly filed for bankruptcy protection for its Charlotte (N.C.)-based division, a maker of graphite electrodes.
Was SGL insolvent? Hardly. Indeed, shortly after it filed for Chapter 11 protection in December, 1998, SGL Chairman Robert Koehler told analysts that the company was "financially healthier" than before and boasted of its "innovative [and] creative" maneuver. SGL was simply hoping to gain leverage against the many lawsuits filed by its customers, claims that SGL deemed "ruinous."
SGL isn't an oddity. In fact, the German affiliate represents the new face of bankruptcy. While the overall number of bankruptcy filings by all businesses in the U.S. has fallen 30% since 1997--a by-product of the booming economy--the number of public companies seeking shelter under Chapter 11 has surged 75% in the past two years, to 145 in 1999.
NO REMORSE. One big reason: More companies--under intense pressure to meet Wall Street's expectations--are using bankruptcy not as a safe haven to restructure their debts, but as a strategic tool in everything from litigation to merger negotiations. "It's no longer the creditors that are pushing companies into the tank," contends G. Larry Engel, a partner at Brobeck, Phleger & Harrison, a leading San Francisco law firm.
To be sure, most companies filing for bankruptcy do so for traditional reasons. Some, such as Filene's Basement Corp. and Just For Feet Inc., suffered severe cash-flow problems after expanding too rapidly. Many nursing home operators--including Vencor Inc. and Sun Healthcare Group Inc., both of whom filed last year--have struggled in the wake of government cutbacks in Medicare reimbursements.
But financially strapped or not, a new breed of executives is showing no remorse about wielding bankruptcy as a weapon. "It used to be the kiss of death for a manager to put his company in bankruptcy, but I don't think that's the case any more," says Delaware attorney David B. Stratton. The catalyst: a 1978 congressional reform that no longer required companies to wait until they were virtually insolvent before filing for protection. The loopholes sat untested until such giants as Johns Manville Corp. and Texaco Inc. used them in the 1980s and early 1990s as a negotiating ploy in the face of huge liability awards.
Ironically, sometimes the impetus for a bankruptcy filing occurs during merger talks. Companies looking to acquire troubled businesses often insist that the target first file Chapter 11--a ploy that usually serves to protect the acquirer from nasty litigation, be it over undetected environmental liabilities or simply from shareholders angry over the purchase price. Indeed, Washington Construction Group was one of the first to make it a merger condition when it took over Morrison Knudsen Corp. in 1996, and Mattel Inc. did the same when it bought Purple Moon Media last March.
MORE LEVERAGE. But many filers are discovering that bankruptcy court is no panacea. Consider the plight of Catapult Entertainment Inc. When the Cupertino (Calif.) gaming company filed for Chapter 11 back in 1996, it moved to ensure its rights to technology licensed from WebTV Networks Inc. founder Stephen Perlman. But Catapult, which has since merged with Mpath Interactive Inc., was dealt a blow last year when a California appeals court ruled that to retain access to existing licenses, Catapult had to get permission from licensors like Perlman--which Perlman refused to give. The California ruling "is going to put more leverage in the hands of licensors when companies get into trouble," predicts San Francisco lawyer Randy E. Michelson, who represented Perlman in the dispute.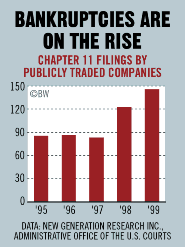 And in some instances, bankruptcy judges are simply refusing to condone filings that they consider abusive. In a sharply worded decision last December, Judge Anthony J. Scirica of the U.S. Third Circuit Court of Appeals, dismissed SGL's bankruptcy request--using the company's own claim that it "faces no immediate financial difficulty." An attorney for SGL did not return calls.
But such legal setbacks aren't likely to stem the tide of companies eager to benefit from bankruptcy. Indeed, for many companies, Chapter 11 is no longer the last chapter--just the prelude to a new start.
Before it's here, it's on the Bloomberg Terminal.
LEARN MORE