Investment pro Robert Lyon always looks for the pearl in the oyster, and he thinks American Home Products (AHP) is such a prize. At 45 3/8, AHP's stock is looking sickly--way off its 52-week high of 70 in mid-April last year. It lost out to Pfizer in its attempt to acquire Warner-Lambert and is also suffering from the general malaise that has hit drug stocks.
But Lyon, president and chief investment officer of Institutional Capital in Chicago, which manages some $11 billion, thinks that AHP is one of the most undervalued pharmaceutical stocks around. The overlooked component in AHP, says Lyon, is its 54% stake in Immunex, a major drug company whose products are used to treat cancer, immunological disorders, and various infectious ailments. AHP's stake in Immunex, which has a market value of $33.5 billion, is worth $18 billion, or $14 a share in AHP stock. "So AHP, when stripped of its Immunex stake, is trading at only $29 a share," notes Lyon, who has accumulated AHP stock.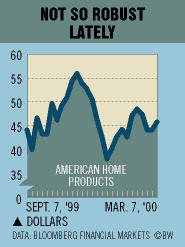 Another reason why Lyon is high on AHP: He's convinced that Novartis, the big Swiss drugmaker, will make a move on AHP before long. Novartis, with a market cap of $72 billion, owns some 44% of Chiron, a biotech biggie. By acquiring AHP, Novartis would end up controlling two of the world's leading biotech companies--Immunex and Chiron--notes Lyon. Novartis had approached AHP late last year but was rebuffed, according to press reports in Europe. He thinks that in a buyout, AHP is worth at least 65. Analyst Jami Rubin of Morgan Stanley Dean Witter, who has a "strong-buy" rating on AHP, figures the company will earn $1.95 a share in 2000, and $2.22 in 2001.
Before it's here, it's on the Bloomberg Terminal.
LEARN MORE