Will Rate Shock Tame Tech Stocks?
Perhaps, if business spending really dries up Greenspan's warning didn't slow down JDS Uniphase-which now has a valuation exceeding GM's
By
When Federal Reserve Chairman Alan Greenspan told Congress on Feb. 17 that he intended to raise interest rates, one target clearly was the sizzling stock market. Evidently, the dot-com set wasn't listening. While the staid old Dow Jones industrial average has slipped since then, the tech-heavy Nasdaq exchange climbed to a record 4780 on Mar. 1. "Economics is for economists," says JDS Uniphase Corp. Chief Financial Officer Anthony R. Muller, himself an economist by training.
His San Jose (Calif.)-based company, which makes fiber-optic components used to build the Internet, has seen shares rise 23%, to $264, since Feb. 17--leaving it with a $92 billion valuation eclipsing that of General Motors Corp. The simple reason: Demand is expected to continue soaring for its products as high-bandwidth networks spread. "Our business is driven by demand for the Internet," he says. "That, more than Fed policy or any macroeconomic considerations, is what drives our business."
Maybe so, but there's a potential dark side to all this. For while the red-hot tech sector may seem to be ignoring the laws of Econ 101, the fun will be short-lived if the Old Economy doesn't come along for the ride. If interest-rate hikes slow the general economy, it could reduce technology spending over time.
"VERY NERVOUS." Even some of the industry's biggest boosters are starting to voice concern. "I'm very nervous," says Scott G. McNealy, CEO of Sun Microsystems Inc. "The Old Economy of brick-and-mortar companies isn't sick, but it's not on fire, either. And if [rising rates] send it spiraling downward, it could pull the foundation out from under the clicks economy." Adds Hasso Plattner, CEO of German software maker SAP: "What happens when people stop buying technology because business slows down?" And the dot-coms with those startling valuations, he notes, could face the biggest risks. "We'll go on making real sales and earnings, although at a lower level. But companies that never had to make a profit--I think they would drop into a black hole."
That may be a worst-case scenario, but there's little reason for complacency. Economists generally think Greenspan will proceed cautiously as he hikes rates this year, allowing growth of 3.8% for 2000. But more and more economists--and some Fed insiders--think growth might have to slow much more to thwart inflationary pressures. That may mean bigger rate hikes than projected.
To be sure, the sales scenario remains rosy for now. Wall Street analysts expect earnings for tech companies to rise 30% in 2000, compared with 12% for non-tech companies, says Chuck Hill, research director of First Call Corp. Chipmakers will lead the charge, with 49% earnings growth, almost matching the blistering 52% gains in 1999.
As long as rate increases remain modest, tech companies probably won't feel much pain. Most carry almost no debt, since they can fund growth from cash flow or by using their highly valued equity. But if soaring interest rates do take a bigger bite out of the economy, the picture could change. Standard & Poor's DRI estimates that corporate spending on software and computers is likely to fall off sharply over the next two years, even with low rates. If rates were to jump substantially, the spending drop would be far deeper.
One way or the other, some tech sectors will be less vulnerable than others. Phone companies aren't likely to trim investment in gear needed to build high-speed broadband networks and offer new-fangled services such as movies-on-demand. And business e-commerce should remain red hot.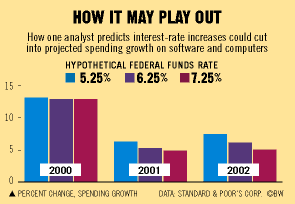 But companies that sell less strategic technology may not be so lucky. Cash-poor mom-and-pop operations might forego that new laser printer or the switch from Windows 95 to Windows 2000. And large companies may take a pass on the latest upgrade of high-price items such as mainframe computers. "Tech companies are not immune" to the effects of slowed spending, says Ford Motor Co. CFO Henry D.G. Wallace. When that day comes, slower sales in the industrial sector could finally prompt investors to take a new look at their high-tech holdings. After all, that's what Chairman Greenspan wanted in the first place.
Before it's here, it's on the Bloomberg Terminal.
LEARN MORE