Now, If They Called It Oil.Com...
Why petroleum stocks are "just sucking wind"
Stephanie Anderson Forest
You'd think these would be glory days for oil stocks. The price of crude has nearly tripled since December, 1998, hitting a nine-year high of nearly $32 a barrel on Mar. 1. Meanwhile, U.S. inventories of both crude oil and gasoline are near historic lows for this time of year, meaning prices at the pump should surge even higher heading into the summer driving season.
So how come oil stocks are "just sucking wind," in the words of PaineWebber Inc. analyst Christopher G. Stavros? And that's after taking into account the boost most energy stocks got in late February as crude prices soared. Overall, shares in energy companies have underperformed the Standard & Poor's Industrials by 6.2% so far this year. And oil giants such as Exxon Mobil Corp. and Texaco Inc. have seen even sharper declines, falling 11.3% and 17.6%, respectively.
One reason is that oil, like many an Old Economy sector, is being shunned in favor of soaring technology and dot-com juggernauts. Besides, few in the oil business believe these lofty crude prices will stick. Many expect OPEC to lift production when it meets on Mar. 27. It was OPEC's cuts a year ago in the face of rising demand that led to today's prices.
"MADE NO MONEY." There's also growing concern about the oil industry's ability to continue big earnings gains after years of cost-cutting and productivity gains. Some investors "don't see much room for [earnings] improvement," says Susan M. Haltmaier of Standard & Poor's DRI U.S. Energy Consulting.
Oil refining provides one bright spot after an absymal 1999. A glut of gasoline and heating oil kept a lid on prices last year, while rising crude prices pushed up raw-material costs. "The industry effectively made no money last year," says Michael C. Young, an analyst at Deutsche Banc Alex. Brown Inc. But this year and next, he says, "we believe the refinery industry will have a fabulous margin environment."
The reason: OPEC's likely move to increase production should bring crude prices down to the mid-$20 range by the second half. But a bigger factor is low gasoline inventories. Poor refining margins have caused refiners to keep operating rates low. Now, with inventories at unusually low levels, the price of gasoline and of other products should jump--even as crude prices drop. The American Petroleum Institute says gasoline inventories stand at 196 million barrels, 15% lower than at this time a year ago and the lowest in about 15 years.
What's more, U.S. refiners need an additional 800,000 to 1 million barrels a day of crude as they turn their plants to producing and stocking gasoline and other products for the coming summer, says George J. Gaspar, managing director of petroleum research at Robert W. Baird & Co. Gaspar doubts OPEC's increase will be enough to meet refiners' demands. Some analysts believe that could create shortfalls and send gasoline prices over $2 a gallon this summer.
Much of that increase is expected to go to refiners. With most refining done by the major companies such as Exxon Mobil, Texaco, and Chevron, they'll likely funnel a big part of the gain from higher gas prices into greater exploration and production spending. But for independent refiners such as Valero Energy, Tosco, and Sunoco, the benefits go straight to the bottom line. Says William E. Greehey, CEO of Valero Energy Corp., the nation's only pure refiner: "1999 was the worst year in the history of refining. [But] we're expecting this year to be a record year for Valero." PaineWebber's Stavros estimates earnings will be $108 million this year, vs. a mere $14.3 million in 1999.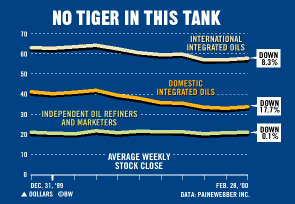 That helps explain why shares of refiners are generally faring better than those in other energy sectors. Valero's stock, for example, is up more than 30% since the beginning of the year, to about $25. According to PaineWebber, refiners' shares are down only 0.1% year to date, vs. a 17.7% decline in domestic integrated oil companies and an 8.3% decline for international companies.
Still, that's hardly enough to bring most investors back into the fold. "They need to see that this improvement will last more than one quarter or season...that it has legs," says Terence P. Delaney, investor relations director at Sunoco, one of the nation's largest independent oil refiners and marketers. Meaning legs that are longer than the tech and dot-com variety, that is.
Before it's here, it's on the Bloomberg Terminal.
LEARN MORE