Japanese Women Get Equal Billing On The Net
Online startups give them a chance they never had
Irene M. Kunii
Mae Towada, 31, isn't your typical Japanese woman. After graduating from a top university in 1990, she shunned a dead-end job at a Japanese company and joined the Tokyo office of Boston Consulting Group. She went on to earn an MBA in the U.S., worked for Walt Disney Co. in Hong Kong, and then returned to Tokyo to set up her own Internet business in 1999. The result: eSampo, one of the fastest growing lifestyle sites in Japan, attracting a loyal fan club of working women and housewives since its launch three months ago.
A handful of women pioneers like Towada are at the forefront of a dramatic shift in attitudes in Japan. While their Internet sites lack the wide recognition of Yahoo! and AOL Japan, their success means that Japanese women entrepreneurs are finally being lauded as role models. Local newspapers and magazines prominently feature Towada, as well as Tomoko Namba, 37, a former McKinsey & Co. consultant who started a popular online auction site called Bidders. And everyone seems to know about Merle Okawara, who built a successful food business before recently being named president of eBay Japan. "Women never had a level playing field in business in Japan," she says. "The Internet will change all that."
Success stories like these are spurring more women to migrate from traditional companies to startups. At Rakuten, Japan's largest cybermall, women account for half of the 70-strong workforce. They also hold senior management posts in Net ventures such as Internet Research Institute and interQ, an Internet service provider. Even female college students--a traditionally risk-averse lot--are looking to startups. "I don't know if I'll ever become an entrepreneur," says Akiko Shimodaira, a university senior who recently attended a meeting for aspiring Netrepreneurs in Tokyo. "But I realize now there are many more career possibilities out there."
A major factor driving the change is women's growing role in Japan's Net economy (chart). Last year, women accounted for 38% of the country's 22 million Internet users, up from 33% the year before. They are also the main force behind the surge in e-commerce, which reached $3.2 billion in sales last year, up fivefold from 1998, according to Andersen Consulting. Partly because of the increase in households headed by single women, online sales could surge to $250 billion, or 10% of expected household disposable income in 2003, predicts Thomas Rodes, Internet analyst at Tokyo's Nikko Salomon Smith Barney Inc. "Japanese women are already great consumers," he says. "As they grow busier, they'll use the Internet to save time and money."
NET SUCCESS. Towada had busy women in mind when she came up with eSampo, one of Japan's first women-oriented sites. Its 4,000 registered users peruse tips on subjects ranging from cooking and childbirth to investing and careers. The site offers a bulletin board where women--and sometimes men--exchange information on day-care centers, jobs, and other subjects.
Still, it will take a long time before women's Net success spreads to the rest of Corporate Japan. Only 9% of the country's managers are women. All too often, women with university degrees are restricted to clerical jobs, while their male peers are groomed for the executive suite. "We're educated as equals, only to go out into the workforce to be treated as inferiors," notes Towada.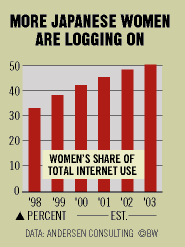 It was tougher for women like Okawara, who even with a university degree couldn't get a decent job back in 1964. She took over her father's failing pizza operation but had trouble persuading bankers to give her financing. She prevailed and built JC Foods into a thriving business, which she took public in 1993. When eBay went looking for a Japanese manager, Okawara emerged as the top choice.
Thanks to an excess of venture capital in Japan, women Net-repreneurs now don't have to beg for loans. "Women in this country are far more flexible and entrepreneurial than men," observes Rodes. They just might leave the male-dominated culture where it belongs--in the rubble of the Old Japan.
Before it's here, it's on the Bloomberg Terminal.
LEARN MORE