Israel: An Advance On The Peace Dividend
Neal Sandler
Israel is finally emerging from its worst recession ever. A combination of tight fiscal and monetary policy in the late '90s had slowed growth to its lowest levels in more than a decade. Real gross domestic product grew by just 2% last year, and when population growth is factored in, per-capita GDP actually declined.
Still, a return to the Middle East peace process by new Prime Minister Ehud Barak, coupled with a surge in demand for the country's high-tech exports and stronger consumer spending, has led to renewed optimism. The Israeli economy was picking up by the end of 1999, and for 2000, it is expected to grow above 4% (chart). Exports of goods and services rose a hefty 7.4% in 1999 and are set to increase even faster in 2000 because of continued growth in the high-tech sector as well as an expected rise in tourism. Even the government deficit may be lower than the 2.5% of GDP target, thanks to an unexpected surplus in January tax receipts.
Also, the flames of inflation seem unlikely to rekindle any time soon. Inflation has slowed dramatically, with consumer prices rising just 1.3% in the year ended in January, compared with 7.8% in January, 1999. The slowdown is due largely to the strength of the Israeli shekel, which has appreciated against the dollar by 3% since the beginning of the year.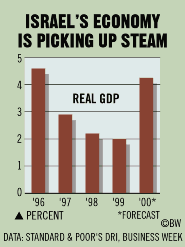 The sharp drop in inflationary expectations has led the Bank of Israel to lower rates. On Feb. 21, the central bank cut its key discount rate from 10.7% to 10.3%. Bank of Israel Governor David Klein said that he would continue the gradual easing of monetary policy. But economists say that rising rates in the U.S. are likely to limit the central bank's room to maneuver.
Despite the anticipated growth in the economy, unemployment is expected to remain high. The jobless rate peaked at 9.1% in the third quarter and dropped slightly in the final quarter of the year. But the economy must grow by at least 5% for a real dent to be made in the unemployment rate.
Before it's here, it's on the Bloomberg Terminal.
LEARN MORE