What's 3 Com Without Palm?
If it uses its windfall wisely, 3Com could come back
by
In today's tech-crazed stock market, owning shares of a highflier is the next best thing to being one. That's the lesson from 3Com Corp.'s pending spin-off of Palm Computing, the wildly successful handheld-computer maker. If a public offering of 4% of Palm goes off as planned on Feb. 28, 3Com will own a stake analysts peg at $9 billion. And if Palm shares head north, as expected, 3Com's stake could exceed the current $24 billion value of the parent company.
That could be enough to help the struggling maker of networking gear buy itself a brighter future. But if the Santa Clara (Calif.) company doesn't devise a new game plan before it hands off over 500 million more Palm shares to 3Com's shareholders later this year, its renewed prospects could evaporate as quickly as they've arrived. Says Paul Sagawa, a Sanford C. Bernstein & Co. analyst: "They understand they need to have a coherent, focused strategy."
It's a second lease on life for 3Com. In the early 1990s, the company dabbled in everything from $50 network cards to $10,000 routers. It lost ground to more focused rivals such as Cisco Systems Inc. in lucrative high-end markets while grabbing the No. 1 position in cutthroat, low-end lines. Sales have grown just 3% since 1997, to $5.8 billion, and 3Com's stock has stagnated.
The Palm payday is a stroke of luck. When 3Com bought Palm via its merger with modem maker U.S. Robotics in 1997, the startup had little value, and 3Com considered selling it immediately. Good thing it didn't. Today, with $563 million in sales, Palm dominates the handheld market. Investors value Palm so highly that since 3Com announced the partial spin-off on Sept. 13, its shares have soared from 29 to a recent high of 77.
HOLDING SOME ACES. That could bankroll a buying spree. Analysts say the company should divest businesses such as the modem banks it sells to Internet service providers and buy companies that play to its strength in consumer and small-business network gear.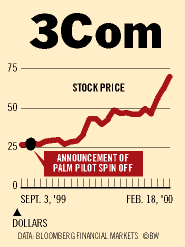 3Com won't comment, but recent signals suggest a return to the company's roots. It still dominates the analog-modem market, which has done little for profits but has earned 3Com ample space on retailers' shelves and unmatched brand recognition. The company aims to parlay that position to be a major player in the market for cable and digital-subscriber-line (DSL) modems, but it's late to the market in both categories. "I can't say they'll be No. 1 in any one market, but they've got their feet in some hot markets at the right time," says Cynthia Brumfield, president of researcher Broadband Intelligence Inc. She figures 3Com's share of the cable-modem market will grow to 9% in 2000 from 5% last year. 3Com's core businesses are stabilizing, too. Non-Palm sales should grow 4.8% in the fiscal year that ends this May and 8.7% the year after, following a 4.8% decline last year.
But that may not satisfy investors used to high double-digit growth. Indeed, some shareholders fear that after the Palm spin-off, 3Com's shares could fall back to 20. "The only reason to hold 3Com is if you think Palm will skyrocket," says a major shareholder who plans to dump his entire stake after the initial runup. But thanks to Palm, 3Com will get to play one more hand to prove the doubters wrong.
Before it's here, it's on the Bloomberg Terminal.
LEARN MORE