Welcome To 2010
IDEO, Designer of the Palm V, Envisions Products of the Future
by
Imagine an entirely wireless world where broadband is ubiquitous, an endless sea of data engulfs us, objects are alive with intelligence, and the Net is "always on, always there." Imagine that nascent technologies evolve to change the form of everyday things--scrolls replace books and magazines, media panels replace computers, holographs replace conference calls, and stick-on patches monitor our health or jogging performance.
Welcome to 2010, as it is envisioned by IDEO, one of the sharpest of the world's cutting-edge design firms. Palo Alto (Calif.)-based IDEO has won more awards than any other product design firm over the past 10 years in the annual Industrial Design Excellence Awards contests held by the Industrial Designers Society of America and sponsored by Business Week.
IDEO is deep into state-of-the-art technology. Of its 300 plus people working in the U.S., Europe, and Asia, half are engineers. CEO David Kelley is a tenured professor of engineering at Stanford University, the fountainhead of the Internet Age.
IDEO designs products, such as the Palm V and Visor personal digital assistants. It also advises corporations such as 3Com, Samsung, NEC, and Steelcase on the strategic use of design. For Transmeta Corp., IDEO created a portable "Webslate" concept to illustrate how its new low-voltage, Linux-ready, Crusoe chip could power Web-based products.
To focus its own future, IDEO recently launched Project 2010, a six-month program to evaluate current trends in technology and visualize products 10 years out. Based on a continued evolution of these technologies, a big "if" to be sure, IDEO designed products for work, entertainment, medicine, and sports. Not only are they cool, they are believable. And you will want them.
What are some of the key technologies that IDEO believes will evolve and lead to a new generation of products?
-- Flexible LCDs. Think about it. The ability to pull out a large screen from a cell phone or a tubular scroll cuts the cord to desktop computers. The mobile Net, today more of a European than an American vision, becomes a reality.
-- Artificial Intelligence. Return from vacation today and hundreds of e-mail messages await. Maybe a quarter are useful. In a decade, data will drown us. AI software will filter, prioritize, and communicate.
-- Holography. A tenfold jump in the size of current holographic images changes communication forever. Faster processing speeds will permit huge numbers of pixels, which generate moving 3-D images in real time.
-- Speech recognition. It moves from a gimmick to an absolute necessity as the need to communicate with huge numbers of people makes typing obsolete. As communication returns to speech, boxy screens disappear and the shape of things morph.
IDEO believes products will be organized along "intimacy gradients." People will customize devices as never before. Just as Americans change screen savers and Japanese teenagers lacquer their cell phones, so too will people design the look and feel of their things.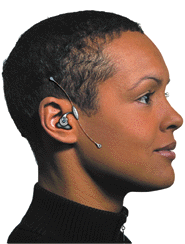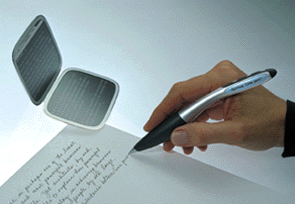 IDEO's vision of the future depends on a wireless world. Europe and Asia are clearly moving toward such a wireless society. But the U.S. is behind and unless it acts soon, it could find itself cemented into a more fixed, immobile future.
On Project 2010, IDEO used electrical and mechanical engineers, industrial designers, interaction designers, even a videographer. A core team did 3-D modelling. Tom Eich was the project leader; Martin Bone did the industrial design; Thomas Enders served as leading technologist; and Danny Stillion did the design of the user interfaces.
Science-fiction writer Arthur C. Clark envisioned geostationary satellites decades before rockets blasted them into space. Here's another look into the future.
Before it's here, it's on the Bloomberg Terminal.
LEARN MORE