The Hottest Show In Town?
by
The new gorilla of live entertainment events, SFX Entertainment (SFX), is in itself well worth watching: Lively investment values are expected to accrue this year. So say some pros who have been accumulating shares as they languish in the low 30s. Now at 33 a share, the stock traded as high as 51 last mid-July. Led by its aggressive chairman, Robert Sillerman, SFX has been busy doing acquisitions, signing up new shows, and building its Internet strategy. For 2000, SFX, a promoter and producer of live events, has signed or is in final talks to produce 30 concert tours, including Tina Turner and the Backstreet Boys.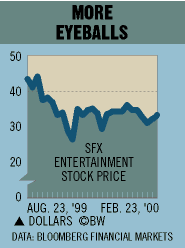 "Business trends in the first quarter are strong," says Harry Curtis, an analyst at Robertson Stephens, who has a buy rating on the stock. Its Web site, sfx.com, currently attracts about 1 million page views a week without any promotions on SFX's part, notes Curtis. The Web site lists tours by artists, Broadway shows, rock concerts, and sports events. SFX is also launching its ticket buyers' club, and it has a stake in Ultrastara, a fan-based Internet service provider. "As SFX builds Internet `eyeballs,' it increases the probability" of spinning off one or more of its Internet assets by yearend 2000, says Curtis.
Another reason why some pros are buying into SFX: CBS, which is in the process of being acquired by Viacom, is believed to be interested in buying a big stake in SFX. "SFX has been in informal talks with some CBS executives," says an investment banker familiar with the situation. "These talks could lead to a buyout, but Sillerman won't sell for less than 70," says the banker. Viacom spokesman SFX couldn't be reached for comment.
Before it's here, it's on the Bloomberg Terminal.
LEARN MORE