Mexico: Second Thoughts About Pricey Oil
By
The recent surge in oil prices has been a bonanza for petroleum-exporting Mexico. The price jump has strengthened the peso and lowered interest rates, ensuring that the recovery that started in 1996 will continue into 2000.
Mexico's real gross domestic product grew a hefty 5.2% in the fourth quarter from a year ago. Growth has accelerated in each quarter of 1999 (chart). And for the year, real GDP was up 3.7%, slightly better than expectations, although below the 4.8% pace of 1998.
The oil spike, along with no sign of a slowdown in the U.S., is prompting private economists to revise their forecasts upward, expecting Mexico to grow just above 4% in 2000, instead of just below it. One danger from rising domestic spending, however, is the upward push on imports. As a result, the current-account deficit, which had been improving in 1999, might start to deteriorate again in 2000, even with better oil exports.
Also, keep in mind that oil is a key revenue source for the government, accounting for 32.5% of all government receipts. So higher oil prices are helping to control the public deficit. The 1999 fiscal deficit came in at 1.15% of GDP, lower than the 1.25% target.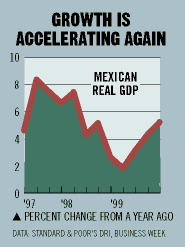 Even so, Energy Minister Luis Tellez has been among the most open of the oil producers in saying that the concern over high oil prices is justified. Why is he interested in seeing oil prices come down? Mexico fears that high prices in the U.S. will lead the Federal Reserve to raise interest rates sharply. Any big U.S. slowdown would have a dramatic effect on Mexico. The export sector continues to be the most dynamic part of the economy, and 87% of Mexico's exports go to the U.S.
So Tellez is walking a fine line--persuading other oil producers to cooperate in nudging oil prices down while avoiding any kind of price collapse. To that end, he will meet on Mar. 2 with his Saudi Arabian and Venezuelan counterparts to try to reach an understanding before the OPEC meeting on Mar. 27.
Before it's here, it's on the Bloomberg Terminal.
LEARN MORE