How Much Is That Robopup In The Window?
Competition in the pet industry is really heating up--among makers of robotic pets, that is. Sony Corp. is going into the pet business in a big way. NEC, Sega Enterprises, and Matsushita Electric have thrown their hats in the ring.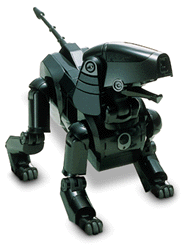 Sony is taking orders for its $2,500 robodog, Aibo, at www.world.sony.com/aibo/ until the end of February. Aibo's brain has artificial-intelligence (AI) software that creates a unique personality for each pet, depending on how it is treated by its owner. Last summer, a limited offering in Japan of 3,000 robopups sold out in 20 minutes; in the U.S., 2,000 were snapped up in four days. So Sony built 10,000 more. When these went on sale in November, the company was deluged with 135,000 orders.
Last August, NEC previewed its own robopooch, code-named R100. This breed also has AI software for evolving a personality and may be more affordable than Aibo when it hits the market in 2001. That's because NEC plans to put R100 on wheels instead of jointed legs.
In April, Sega will introduce a budget-price robodog. Like Aibo and R100, it responds to touch and sound, but only in preprogrammed ways--so it will cost about $30. And Matsushita plans to unveil a robocat, called Tama, next year.
Before it's here, it's on the Bloomberg Terminal.
LEARN MORE