Ford And Gm: Giants In Europe's Slow Lane
The Americans flounder in the crowded European market
Matthew Karnitschnig
General Motors Corp. and Ford Motor Co. may be the world's No. 1 and No. 2 auto makers, but they seem to have run out of gas in Europe. Both are steadily losing market share there and are marginally profitable at best. Ford showed just how bad things are on Feb. 18 when it launched a drastic restructuring. Through layoffs and plant closings, the company may slash its European production capacity by up to 25%--or 525,000 cars a year.
The two American giants have a lot of catching up to do. Most Europeans want cars that are small, stylish, and affordable. In a market that includes 27 carmakers, they have plenty of choices. And although Europeans bought a record 16.5 million cars and trucks last year, that was still 3.5 million units below production capacity. In that cutthroat environment, not everyone is going to survive. Adam Opel's subcompact $10,000 Corsa and Ford's $12,000 Fiesta, while small and affordable, lack the seductive styling of offerings from Volkswagen, Renault, and Fiat. That leaves GM and Ford struggling to improve their lineups while cutting costs.
It's about time Ford attacked its cost problems. The company earned only $28 million in the region last year on sales of $30 billion, while its market share fell to 9.5%, from 11.7% in 1995. "The result is that we have a profit problem of serious magnitude," says Ford Europe Chairman Nicholas V. Scheele. Ford has the capacity to make about 2.25 million vehicles in Europe but sold only 1.7 million there last year. A key step will be to cut 1,500 jobs at its largest British plant in Dagenham, where it makes the Fiesta, and reduce its capacity by about a third, to 175,000 vehicles a year. Further cuts at other European plants are likely after a detailed review is completed in a couple of months.
GM's Opel subsidiary, which accounts for nearly 80% of its 1.72 million European car sales, hasn't fared much better. Opel is beefing up marketing and adding new models, but it doesn't expect to post an operating profit until 2001. GM won't quantify Opel's losses except to say that they are "significant." GM's West European market share recovered slightly in 1999 after price cuts, but at 10.9% it is still well shy of the 12.6% the carmaker enjoyed in 1995. GM has slashed prices on such models as the $14,000 Astra, which competes with VW's $14,600 Golf. "To win in Europe, you have to drive innovation in product, and you have to be aggressive on cost," says GM President G. Richard Wagoner Jr.
While GM discounts, Ford has maintained prices, sacrificing share to bolster margins. Its aggressively styled $14,650 Focus model is selling well. Ford's big problem is the Fiesta, which hasn't had an overhaul for nearly 11 years. A new model won't be out until late 2001.
CHANGING GEARS. VW, which trailed GM and Ford in the early 1990s in Europe, has passed them both to become No. 1. It now offers multiple models and brands on the same platform, which should keep costs down. But even VW has problems. Its earnings fell a sharp 21.5% last year, hurt by discounting and weak German and Latin American car markets.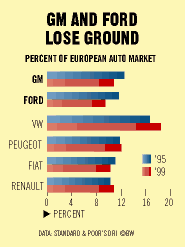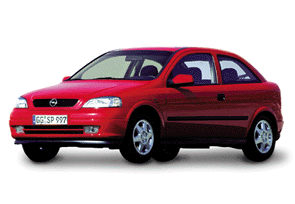 Ford and GM, which have tried to produce cars with global appeal, are now taking local tastes more into account. To match Renault's $18,500 Megane Scenic, a compact minivan well adapted to Europe's narrower roads and higher fuel costs, Opel last year rolled out its $18,250 Zafira--its most successful introduction in years. Ford, meanwhile, had a van nine months away from introduction but abruptly scrapped it. "There is no point in coming with an entry that isn't a home run," Scheele says. "The fundamental is that we have to get it right." For both Ford and GM, time grows short for getting it right in Europe.
Before it's here, it's on the Bloomberg Terminal.
LEARN MORE