Big Oil In Venezuela: "We're Not Very Sure We're Welcome"
Chavez threatens to clamp down on foreign producers
Christina Hoag
When Lieutenant Colonel Hugo Chavez was swept into power in Venezuela, he promised to deliver prosperity to all of the country's 23 million citizens. And he seemed to have an industry under his control that could deliver the goods: the rigs that pump oil from Venezuela's deep deposits.
Yet a year into his term, Chavez has not yet made good on that pledge. Although crude prices are at their highest level in nearly a decade, the world's sixth-largest oil producer is clawing its way back from its worst recession in 10 years. And Chavez' approval rating is down to 69% from a stratospheric 90% a year ago.
IDLE RIGS. Ironically, the reason Venezuela is in a slump is much the same reason oil prices are so high. Last March, the country, along with other OPEC members, agreed to sharply rein in production in a bid to pump up prices. That was part of the Chavez strategy to build solidarity with OPEC, whose quotas Venezuela traditionally flouted. Today, Venezuelan Energy & Mines Minister Ali Rodriguez is a key member of the triumvirate that dictates world oil policy, together with former archrivals Saudi Arabia and Mexico.
Venezuelan crude is now trading at $26 per barrel, compared with $8 a year ago. Yet while government coffers are brimming over with petro-dollars, the real economy is hurting. Gross domestic product plunged 7.2% in 1999, largely due to falling oil output. Nearly half of the country's rigs have shut down and some 8,000 oil workers have been laid off. What's more, Venezuela's premier position among suppliers of crude to the U.S. has been usurped by Saudi Arabia and Canada.
The slump has also strained relations between Chavez' government and the 33 foreign oil companies with operations in Venezuela. "We're not very sure we're welcome," says Gary A. Merriman, Conoco Inc.'s vice-president for Americas exploration and production. The state-owned oil company, Petroleos de Venezuela (PDVSA), has had to absorb most of the 20% reduction in the country's OPEC quota, to 2.7 million barrels per day. Yet all the while, foreign companies have been pumping away, unconstrained by any quotas.
Now, Chavez wants to rein in the independents and bolster PDVSA. "Third-party production is being increased more than our own," complained Rodriguez in recent press interviews. "We have to dismantle that policy." The Energy Ministry is also leaning on foreign oil companies to source more of their supplies domestically. Most are going along with the buy-local drive, even though overvaluation of the Venezuelan bolivar makes domestic purchases less attractive than imports. Merriman says that costs have shot up 30% at Conoco's $3.4 billion Petrozuata heavy-crude project.
CONSOLATION PRIZE. Foreign companies resent the government's heavy-handedness. They are even more alarmed by the prospect of being left out of Venezuela's oil policy altogether. Earlier this month, PDVSA unveiled a 10-year, $53.3 billion investment program aimed at doubling oil output by 2009. Under the plan, exploration and production will be strictly in the hands of the state-owned company. That's a sharp departure from the established practice of allowing private companies to take part in such activities either under contract or via joint ventures with PDVSA.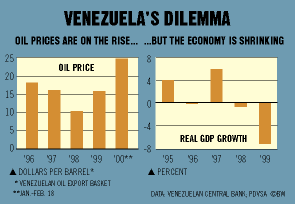 By way of a consolation prize, foreign investors will get a shot at joint ventures in natural gas and petrochemicals. "Companies originally came here to produce oil, but we'll look into other opportunities if the government makes them available," says Jaime Varela-Walker, vice-president of business development at Chevron Latin America. Still, new rules require foreign companies to designate a local company as project operator.
The big oil companies are sitting tight for now. Yet if Chavez keeps up the pressure, the oil majors may find it a lot easier to make future investments elsewhere. And the President's brand of petro-socialism could be the loser.
Before it's here, it's on the Bloomberg Terminal.
LEARN MORE