As Slot Machines Bleed Gamblers...The Net Beckons With Billions
Tracey Aubin
At Star City, Australia's second-largest casino, on the banks of Sydney Harbour, patrons can play their choice of 1,500 slot machines 24 hours a day. The operators say that's not enough and are lobbying regulators for an additional 100 machines. Outside the casino, virtually every one of the city's bars, hotels, and clubs has replaced some drinking space with slot machines over the past three years--a grand total of 100,000 in New South Wales state alone. The upshot is that Australia, with a population of 20 million, now has the dubious honor of fielding almost a quarter of the world's slots. Says Paul Symond, a counselor at Sydney's Council on Problem Gambling: "We are a nation that loves poker machines."
The flood of slots has boosted the industry's profits into the stratosphere--and prompted rising calls to limit gambling. Since Australia's first casino opened in 1973, successive governments have liberalized gaming laws, and the number of casinos has grown to 13. The industry employs 110,000 people, more than mining, and accounts for about 1.5% of gross domestic product. Australians are the heaviest gamblers in the world, losing on average at least twice as much each year as those in North America and Europe. In 1999 they poured $60 billion into all forms of gambling, or $4,312 per adult. They lost a total of $7.5 billion, up $820 million from 1998. And New South Wales gamblers were the biggest losers, squandering $608 for each adult in the state. That's partly due to the slots, by far the most profitable branch of the industry.
Such numbers led Canberra to commission a study of gambling in 1997. The report, released in December, says that some 329,000 Australians have gambling problems. Although they represent just 15% of gamblers, they rack up a third of total losses. And 70% of problem gamblers blame slot machines. The commission also found that gambling takes a severe social toll. One in four problem gamblers blamed the habit for a broken marriage. One in 10 had considered suicide.
The study is giving more ammunition to Australia's antigaming forces. The Reverend Tim Costello, brother of Australian Treasurer Peter Costello, operates the national Interchurch Gambling Taskforce. "People who are gambling most are in the poorer socioeconomic groups," he says. "They haven't benefited from an economic upsurge. All this does is widen the gap."
LEERY. But the antigaming groups face long odds, not just because casinos, hotels, clubs, and bars make a mint off gambling but because government itself is hooked. In 1999 the states raked in a tidy $2.4 billion in gambling taxes, up $278 million over 1998. And slot machines pumped in 46% of the take. That kind of jackpot makes legislators leery of cracking down on one-armed bandits.
Canberra also has a new problem on its hands: gambling on the Net. There are 200 or so sites operating out of places like the Cayman Islands without much regulation, but players have proved leery because they don't feel certain of collecting their winnings. So casino operators worldwide had looked to Australia as a potential center for properly regulated Net gaming.
That could mean more big dollars, yet Prime Minister John Howard and his conservative government are resisting. Howard says he favors a total ban on Net gambling in Australia as a way of freezing the industry's growth. A Senate committee examining the question will report this quarter.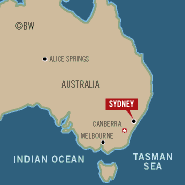 That's causing the casinos grief, especially Lasseter's in Alice Springs, which in the present legal limbo has opened a small Internet gaming site. Investors, among them Kerry Packer, Australia's richest man and owner of the largest casino, the Crown in Melbourne, warn that a ban won't stop Net gambling but will simply push it offshore.
Past experience suggests the industry can breathe easy. Even conservative estimates point to billions to be made from online games of chance. Merrill Lynch & Co. predicts the global Net gambling market is set to boom, with Australian companies positioned to become dominant players. Since Canberra sat back as the states' take from gaming soared 40% over the past three years, it may well find a cornucopia of online gambling dollars irresistible.
Before it's here, it's on the Bloomberg Terminal.
LEARN MORE