Is Internet leader America Online (AOL) now poised for a strong recovery? The market has trashed AOL's shares since it announced on Jan. 10 that it was acquiring Time Warner. Trading as high as 94 in mid-December, AOL shares have been going downhill, to 49 by Feb. 22. But the stock rebounded the next day to 57, on an upbeat report by Merrill Lynch. Add to Merrill's bullish stance the voice of San Francisco investment firm Harris Bretall Sullivan & Smith, which manages $6 billion. It believes that AOL's stock is dirt cheap and the company will emerge stronger than it was before the proposed merger. Harris Bretall has been buying shares and adding to its AOL position.
"AOL has become a terrific bargain at this level, based on the combined companies' huge cash flow, or EBITDA [earnings before interest, taxes, depreciation, and amortization]," says Seth Scholar, technology guru at Harris Bretall, who tracks both AOL and Time Warner. The skeptics are discounting AOL as a slow-growth company once it hooks up with Time Warner. Scholar disagrees. "The huge cash flow of the combined companies and their projected growth rate of 25% to 30% next year indicate to me that AOL will be a terrific grower," he says.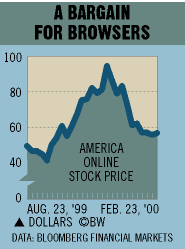 And compared with the current valuation of some big leaders, AOL is very cheap, argues Scholar. Microsoft and Cisco Systems, he notes, are trading at two times their cash-flow growth rate of 50%, and EMC and Sun Microsystems are selling at 1.5 times their growth rate of 25% to 30%. AOL is trading at a mere 0.9 times its 2001 cash-flow growth rate estimate of 25%. Scholar puts the cash flow of AOL-Time Warner at $10.3 billion, or $2.33 a share for 2001. Given a 1.5 multiple of cash flow to a growth rate of just 25%, AOL should trade at 80; at two times cash-flow growth, it should be 120, figures Scholar. With AOL's stock way down, there is worry that the merger might abort. "If it does, AOL's stock will rocket," predicts Scholar.
Before it's here, it's on the Bloomberg Terminal.
LEARN MORE