U.S.: Winter Winds Aren't Slowing This Economy
Growth is staying robust this quarter despite some wan January stats
by
It is often true that January data tell you more about the weather than they do about the economy. Is this one of those times? Or is the economy slowing, as some of the data suggest? That surely would please Wall Street and the Federal Reserve, since cooler growth could forestall further hikes in interest rates.
However, a close reading of the numbers suggests a slowdown is more wishful thinking than fact. Weather skewed the January data--sometimes up, sometimes down. Job growth soared because the Labor Dept. took its survey during a mild week. Then the winter turned harsh, keeping shoppers indoors, which depressed the month's retail sales. But despite the deep freeze and snowstorms, builders still managed to break ground on more new homes.
The strongest argument against a meaningful moderation in growth comes from the industrial sector. Manufacturing, unfazed by winter's whims, is accelerating (chart). Based on past patterns, it would be highly unlikely that overall growth is slowing at a time when this extremely cyclical segment of the economy is speeding up.
What's more, factories are using their production capacity at the fastest rate in a year and a half, adjusted for the bounceback after the 1998 auto strike. Utilization rates are far from levels that would foreshadow capacity bottlenecks and upward pressure on finished goods prices. But at the current paces of output and capacity, some capacity strains would develop by the second half of the year.
INDUSTRIAL PRODUCTION scored an unexpectedly impressive 1% gain in January, particularly since a weather-related surge in utility output added only about a tenth of a percentage point. Except for the 1998 strike rebound, January's was the largest advance in 42 months. Output in manufacturing alone increased a brawny 0.9%, led by a rebound in business equipment and strong gains in a broad array of consumer goods. Faster growth in exports is adding its own punch to the manufacturing surge, which is already pushed by booming domestic demand, since U.S. producers of goods export more than a fifth of their production.
The sharp pickup in equipment output follows almost no advance in November and December. Many businesses appear to have put some equipment purchases on hold until after the Y2K date change, so they could then better assess their needs. January's speedup suggests that capital spending, which slowed sharply at yearend, is turning around this quarter and will add handsomely to growth in real gross domestic product.
Clearly, any premillennium inventory building is not standing in the way of output growth in the new year. True, business inventories grew quickly in the fourth quarter, by themselves adding 1.2 percentage points to the quarter's 5.8% GDP growth. Still, that rapid stock buildup did not keep pace with demand. Inventories in manufacturing and wholesale and retail trade increased 0.5% in December, but business sales rose 1.1%. That's been a long-running pattern: During the past year, business stockpiles have grown 4.6%, but sales are up 9.2% (chart). By the end of last year, the ratio of inventories to sales had fallen to the lowest level on record.
Manufacturing output, although speeding up, is not keeping up with demand, either. Excluding aircraft, the factory backlog of unfilled orders is rising rapidly. That means there is an increasing number of orders already in the pipeline that will continue to power industrial production in the months ahead.
ALL THIS IS WHY CAPACITY USE is on the rise. It had languished in 1998 and much of 1999 as export growth plummeted from 16% yearly in late 1997, to zero a year and a half later. The utilization rate for all industry reached 81.6% in January and 80.6% in manufacturing. Those rates will rise much higher this year, and they will increase faster than in recent times. That's because the 1998-99 weakness caused many industrial companies to rein in their investments in new equipment, mostly for the more than 50% of outlays not going to information-processing gear.
Meanwhile, industrial capacity is now growing only 4% annually, down sharply from a peak growth of 6.4% in late 1998. Consequently, if industrial production and capacity were to grow at their paces of the past four months, the utilization rate would hit 83% by summer. That rate is usually one associated with increasing production bottlenecks and pricing pressures.
WHAT'S FUELING THE OUTPUT GAINS, of course, is demand, especially by consumers. That's why the January retail sales data bear close scrutiny. They showed that sales rose only 0.3%, and, excluding car buying, they fell 0.3%, the first decline in more than two years.
But some Y2K-related anomalies were clearly at work. Note that December receipts were boosted by outsize gains in sales of food and drugs, both of which posted sharp drops in January. Taken together, December receipts for those two categories registered the largest monthly increase in 20 years, and the January plunge was the biggest in two decades.
In addition, the boom in e-tailing caused a December upward spike in the category covering catalog and Internet sales. That category posted a decline in January. Moreover, extremely bad weather in the second half of the month added its own downdraft.
Because November and December retail sales surged 1.3% and 1.7%, respectively, even the slim January increase puts sales in the first quarter well above the fourth-quarter average. That means real consumer spending in the GDP data is already on track to post a solid advance this quarter of about 4% at an annual rate, and it could be even greater depending on the strength of spending in February and March. On that score, weekly retail surveys show that February buying is off to a very good start.
Solid consumer fundamentals are why housing, the most interest-rate sensitive sector, is not crumbling despite higher rates (chart). January housing starts rose a surprising 1.5%, to an annual rate of 1.78 million, lifted by a big increase in apartment building. Even though single-family starts dipped 2.1%, building permits posted the largest increase in two years.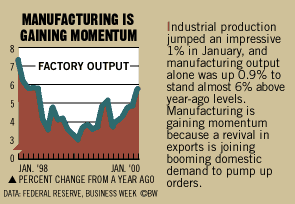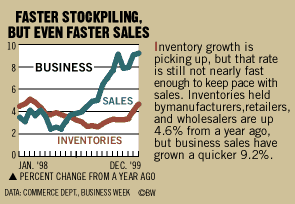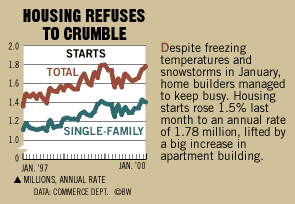 Builders do seem more cautious about the future, based on their February survey of housing-market conditions. They say they are tempering their sales expectations as a result of higher mortgage rates, but they still see continued strength in the market for new homes. Their February index of market conditions dipped to 68, from 71 in January, although that's still a relatively high level.
Notwithstanding the weakness in retailing, it will clearly take more than ol' man winter to throw a chill over this economy. Look for interest rates to come up about the same time as the daffodils and crocuses.
Before it's here, it's on the Bloomberg Terminal.
LEARN MORE