The Educated Can't Wait To Leave...But A Few Are Trickling Back
Afshin Molavi
Ramin Farjad Rad, a gifted Iranian engineering student with dozens of collegiate awards, won his most valued prize a few years ago: entry to the U.S. Like thousands of Iran's best and brightest, he was looking for a way out. Armed with a letter of acceptance from Stanford University, he walked into the U.S. embassy in Amsterdam in the summer of 1994 and walked out with a freshly minted entry visa. "It was like a dream come true," says Farjad Rad, 30, who is today one of thousands of Iranian engineers working in Silicon Valley. His dream, however, reflects Iran's tragedy, as a brain drain that began with the country's 1979 revolution shows no signs of slowing.
The numbers are grim. One in four Iranians with college degrees is working abroad, according to the International Monetary Fund. Only a few countries in Africa, the Caribbean, and Central America have such a high rate of brain drain. What's more, up to 40% of Iranians on government-funded scholarships refuse to come home, according to Reza Mansouri, a Tehran academic who has studied the brain-drain problem.
SLUGGISH. So why the rush out of this oil-rich land? Just after the mullahs' revolution, many of the country's finest minds left, fearing the worst. Thousands settled in the U.S., where the nearly 1 million Iranian-Americans boast high rates of education and affluence. Today's brain drain, however, results mostly from a sluggish, state-dominated economy and a stifling work environment that often favors connections and Islamic piety over ability and creativity. The persistent 20% inflation rate and low wages also frustrate professionals. As one disgruntled 41-year-old Tehran engineer puts it: "We are paid so little that we can barely make it. And to travel abroad is unthinkable with our worthless currency."
While the U.S. has tightened Iranian immigration since the late 1980s, Canada has opened its doors wide to Iranian doctors, engineers, and scientists. Another hot destination is Australia. Ironically, what makes Iranian professionals so attractive is the high-quality education they get at universities in Iran. Scientific education has been a cornerstone of the Islamic Republic's policies, and it has paid off dramatically. A team of young Iranian math students placed first among 79 nations at last year's world math olympiad in Taiwan. A physics team placed third in another world tournament, and a high-tech robotics team won the first annual robot World Cup in Germany. Sadly, says Iranian journalist Esmail Jamshidi, most previous Iranian science olympiad winners are at top universities in Germany, Britain, and the U.S.--and they don't plan to return.
While Iran's lively press corps has taken aim at the government for its failure to stem the brain drain, a quiet, little-noticed brain gain is picking up speed in Tehran. All over the sprawling metropolis, Iranians with Western degrees, encouraged by the liberalizing policies of reformist President Mohammad Khatami, are cropping up in private-sector companies
Although the numbers are small compared with those heading for the exits, these returnees are making an impact on the economy. Siamak Namazi, a graduate of Tufts University in Boston and a longtime resident of the U.S., returned to Iran last year to join a new business consulting company created by another Western-educated Iranian, economist Bijan Khajehpour.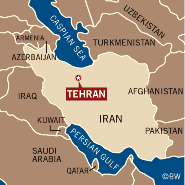 While Iran's untapped economic potential excites Namazi, he says a sense of mission is his overriding concern: "I came to Iran to help my country. Indeed, the company, Atieh Bahar Consulting, has created at least 20 much-needed jobs for Iranians and boosted the country's credibility as an investment market by sponsoring trade delegations and speaking at conferences. More important, says British-educated Pari Khajehpour, another senior staffer at the company and Bijan's wife, it teaches Western-style management to local companies.
Recent government actions indicate a desire to attract members of the Iranian diaspora back home. The parliament has introduced legislation offering amnesty for Iranians abroad who left the country illegally. The Foreign Ministry and the Culture Ministry are reaching out through special diaspora offices. Still, for every diaspora Iranian who thinks of coming home, hundreds gather each morning at foreign embassies across Tehran, dreaming of an exit visa.
Before it's here, it's on the Bloomberg Terminal.
LEARN MORE