Like many other Internet companies, Hoover's (HOOV) stock skidded below its initial offering price after an early blast-off. The stock jumped from 14 to 22 on the first day of trading (July 21, 1999) but then sagged to 8 3/4 by Feb. 16. But to money pro David Simons, the stock's breakdown was a welcome chance: He hunts for beaten-down Net plays whose business models indicate to him that they will endure and survive initial drawbacks. An online provider of proprietary editorial content and information on companies worldwide, Hoover's also supplies information on IPOs, brokerage and credit reports, news stories, and Securities & Exchange Commission documents.
Since licensing its database to America Online in 1993, Hoover's has struck similar agreements with Bloomberg, Dow Jones, Microsoft Network, Yahoo!, and The New York Times. With its clean balance sheet, cash of $57 million, 65% gross margins, and yearly revenue growth of 140% in 1999, "this Internet stock comes close to being a real value play," says Simons, managing director of Digital Video Investments.
"And Hoover's seems ripe for acquisition," he adds. Its rival Market Guide, says Simons, was acquired in June by Multex.com, an online intermediary for the brokerage industry, at a price-to-sales ratio of 15. Hoover's is worth 7 to 10 times sales, he says. Hoover's largest stockholder: Time Warner, which owns 22%.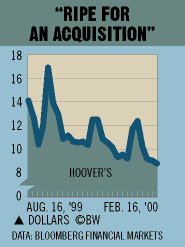 Analyst Jordan Rohan of Wit Capital thinks Hoover's is worth much more--with or without a takeout. "It's a tremendously undervalued stock that I think is worth 21," he argues. He says Hoover's is distinctly different from such rivals as MarketWatch.com. It has created profiles of a growing list of companies--currently 15,000--for investors, businessmen, and researchers. Based on better-than-expected third-quarter results, Rohan has raised his revenue estimates for the year ending Mar. 31, 2000, to $19 million, and for 2001 to $38.9 million, up from 1999's $9.2 million. Although Hoover's is still in the red, he sees it breaking even this year.
Before it's here, it's on the Bloomberg Terminal.
LEARN MORE