Shakeout In The Latin Skies
High costs and U.S. competitors bring carriers to grief
by
These are turbulent times for Latin American airlines. VASP, Brazil's former No. 2 carrier, announced on Feb. 11 that it would lay off 110 workers, scrap flights to New York and Toronto, and return at least four of its leased MD-11 jets. Argentine flagship Aerolineas Argentinas is hoping a shareholder rescue plan to be unveiled in March will keep it aloft. Meanwhile, Mexico's Taesa filed for bankruptcy on Feb. 3, and Venezuela's Avensa is looking for a strategic partner to survive.
High operating costs, plus heavy competition from U.S. airlines, threaten to ground several Latin carriers. Experts warn that a shakeout is inevitable, with Latin airlines merging with each other or with foreigners, and smaller carriers going under. Others will seek out foreigners for alliances such as code-sharing agreements, which offer passengers coordinated ticketing and scheduling. "If the local airlines can't reasonably expect to beat the competition, they'll have to join them," says Stuart Klaskin, partner at Klaskin, Kushner & Co., a Miami aviation consultant.
CLOSED SKIES. Latin airlines are feeling the pinch of last year's economic slump, which dampened demand for tickets in 1999. But many of their troubles also stem from the gradual opening of Latin skies to international competition over the past decade. For example, Sao Paulo-based VASP, privatized in 1990, must do battle with seven U.S. and local airlines on routes to the States, compared with just a few 10 years ago. The pressure on Latin carriers is so intense that Argentina on Feb. 1 suspended its open skies treaty with the U.S., which set a deadline of 2003 for deregulation of air traffic between the two countries.
In fact, such U.S. carriers as American Airlines Inc. and United Airlines Inc. seem to have an insurmountable edge over their Latin counterparts. American carriers not only boast vast international networks but also have a virtual lock on travel within North America, the destination for 75% of Latins traveling outside the region. "That's a huge natural advantage for the U.S. carriers that the Latins can't defend against," says Bob Booth, chairman of Miami-based Aviation Management Services Inc. U.S. airlines' market share has grown by 20 percentage points in some countries over the past decade (chart).
Elevated operating costs also make life tough for the Latins. Close to one-quarter of Brazilian airlines' budgets is consumed by expenses such as commissions paid to travel agents and marketing, says Irineu Correa, an airline analyst with Lopes Filho e Asociados, a business consultant based in Rio de Janeiro. By comparison, major U.S. carriers spend just 7.5%. The January, 1999, devaluation of the real also hit Brazilian carriers hard, since 40% of their costs are in dollars.
Still, it takes more than one bad year to send an airline into a tailspin. Aerolineas Argentinas has racked up $800 million in debt and nearly $1 billion in losses since it was privatized in 1990. It is awaiting a bailout from a major shareholder, SEPI, the holding company for Spanish flag carrier Iberia. SEPI has promised to pump $70 million into Aerolineas but wants the Argentine government, which retains a 5% stake, to chip in as well.
VASP, too, is partly to blame for its own travails. Brazilian aviation authorities have threatened to ground the airline for not paying its weekly airport fees. The company is $22 million in arrears on such payments, and that's just a fraction of its total debt, which analysts estimate at over $1 billion. But that didn't stop VASP from slashing the fare on its Sao Paulo-Rio de Janeiro shuttle in half, to $80 round-trip in January. "You pay the way there, and we pay the way back," brags VASP President Wagner Canhedo. The move drummed up sales, but the national airport agency, Infraero, criticized it, saying it amounts to predatory pricing.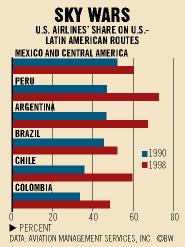 VASP'S NEST. VASP's days may be numbered. Brazil's airline industry is ripe for consolidation. Two of the four carriers, Transbrasil and TAM, may merge some domestic routes. It's only a matter of time before VASP is forced to sell out to its larger rival, Varig, or to relinquish a large minority stake to its code-share partner, Continental Airlines Inc., says Booth.
Not all Latin airlines are ailing, though. Aeromexico and Mexicana, which operate under the same holding company, are profitable, though largely because they enjoy a near monopoly. But they are the exceptions. More typical is Avensa, which is $58 million in debt and is desperately seeking a merger partner. With so many Latin carriers in distress, there aren't enough white knights to go around.
Before it's here, it's on the Bloomberg Terminal.
LEARN MORE