Seeking Your Roots? Dig
Sandra Dallas
Across the street from the thick walls surrounding Temple Square and its granite temple, a line forms at dawn. People hurry past the Main Street statue of Mormon patriarch Brigham Young, then take a short cut through the square, where Christmas decorations mix with late-blooming pink and yellow roses. By the time the doors open at 7:30, 100 or more are waiting, lugging briefcases and laptop computers, eager to get started on, of all things, tracking down their long-dead ancestors. Many of the 2,500 who come here each day stay until the 10 p.m. closing at the Church of Jesus Christ of Latter-day Saints' Family History Library, the world's largest depository of genealogical information. And they'll be back bright and early tomorrow.
"I come three or four times a year, ever since I discovered my great-great grandfather was a bigamist," says June Lindquist, a retired nutritionist from Berkeley, Calif. "We've been coming for 15 years," adds a Canadian woman, who makes the trip with two friends. Groups of up to 150 travel to Salt Lake City each year from everywhere from New Zealand to France. "They've got the whole world, so you've got to come here," says Pierre Le Clercq, who lives near Paris. This is his eighth trip to the five-story, granite-faced library, part of a cluster of church buildings that dominate the center of Salt Lake City. Inside Temple Square are the famed Tabernacle, with its turtle-back roof and a memorial to the handcart pioneers--the 2,962 who pushed handcarts across the plains to Zion from 1856 to 1860, some perishing in brutal snowstorms. Down the street are the Beehive House, where Young lived, and the Lion House next door, which housed some of his 27 wives and 57 children.
I had always thought of genealogy as the province of a few would-be bluebloods seeking connections with the rich and royal. But folks all over the world are searching for their roots these days. Perhaps half of all Americans research their ancestors, through books, records, graveyards, and now the Internet. In May, the Mormons' Family History Dept., which operates the library, plus 3,400 branches in 64 countries, inaugurated its FamilySearch.org Web site, containing 400 million names. Since then, the site has had 1.8 billion hits, averaging about 8.5 million per day. It's so popular that in November, the church added an additional 240 million names. The Mormons also sell computer disks of genealogical information, generally at cost. The 1881 British census, for example, containing 32 million names on 24 computer disks, sells for $33.
The Mormons, who first entered this remote valley in 1847 led by the indomitable Young, have religious reasons for keeping extensive genealogical records. Mormon doctrine teaches that the family "does not end with death," explains Elder D. Todd Christofferson, a member of a church governing body, the Presidency of the Seventy. But sacraments uniting families for eternity--baptism, for instance--must be performed on earth. So the library was started in 1894 to help diligent Mormons search for ancestors who never went through the appropriate ceremonies. Then they stand in as proxies for the dead as the rituals are performed in a temple.
For beginners, the Web site is a window to the library; both are open to anyone, free. Darrell Hooker, a professional researcher from Nephi, Utah, says clients "search their name on the Net, then ask me to do more." Peering into a microfilm machine on the international floor, near a sign limiting time to five minutes ("Chinese catalog users may extend time limit," reads another sign), he says: "I got a request from Brazil from a man who had ancestors who came to Tennessee, then returned to Brazil, and another from a family who went from Iceland to Britain."
OVERWHELMING. The information on FamilySearch is a fraction of what's available in Salt Lake. Moreover, the Web site accepts research sent in by users, about 1.2 million names every month, with only a cursory check, usually for obscenity and hate-group or racist content. "There are errors in the database," says a library patron. So serious searchers eventually make their way to Salt Lake.
The Mormons' collection is overwhelming. As many as 74 billion people lived during recorded history, and 6 billion of their names are written down. The library has 2 billion and is adding some 50 million more every year, says library director David E. Rencher. Information is contained on 2 million rolls of microfilm, 700,000 microfiches, and in 280,000 publications. "Many people assume our ancestors left little evidence of their existence, but they often left fairly good records of themselves," says Richard E. Turley Jr., managing director of the Family History Dept.
Included are birth and death lists, military and probate records, and British bastardy bonds from paternity hearings dating back to the 1600s. There are records of passports issued by the governor of Georgia for entry into Indian territory, names of soldiers from an English village who were killed at Waterloo, cemetery interments, ship passenger lists, hospital and orphan records, and English records for "window and hearth" property taxes. For the most part, the church doesn't make available information more recent than 1920, to protect the privacy of the living. Half the data are U.S. and Canadian, and a fourth are from Britain, since many early church converts were of British stock. But now, information is coming from all over the world, especially former Eastern Bloc countries.
Patrons come from all over because often, it's not only the most comprehensive but also the cheapest way to do their research. "I save money coming here," says Le Clercq, who points out that his only alternative would be to go to Belgium, Quebec, the Nether-lands, Germany, and several other countries. Information he wanted on France was burned in 1870, and the company that owns copies restricts their use in France. But Le Clercq found them in Salt Lake. Foreigners know they can almost always find someone who'll help them in their own language. Mormon men generally spend two years as missionaries, often abroad. So it's easy to find someone who speaks French or German among the library's 200 employees and 350 volunteers, many of them descendants of Utah's rugged pioneers. But library personnel also speak or read Portuguese, Japanese, Bulgarian, Welsh, and a dozen other languages, including Irish Gaelic. (Volunteers are admonished not to proselytize.)
Familiarity with foreign countries also helps the Mormons negotiate for the right to copy records; at the moment, they're microfilming in 50 countries. They won't pay for access but promise to provide owners with microfilm copies--no small matter, since many originals are falling apart. Copies are also stored in a 6,000-square-meter granite vault drilled into a mountain outside Salt Lake--and they are vital when originals are lost in fires or floods. When a typhoon destroyed records in the Cook Islands several years ago, many government functions, such as the issuing of passports, stopped. Then the library sent a microfilm copy of the missing records, and things were up and running in 30 days.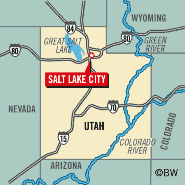 Genealogy "has the mystery and fun of a complex computer game," says the Family History Dept.'s Turley. Searches are indeed a game--an addictive one, as I discovered when I searched for my great-grandfather, James Sanford Dallas. Finding him was a snap, it turned out. Born in Ohio about 1840, he married Kate E. Atkinson on Dec. 31, 1868. Her name jogged a memory: My grandmother once told me we were related to David Rice Atchison, who was President for a single day. (It's one of those questions that pops up on trivia quizzes. James K. Polk ended his term Sunday, March 4, 1849, but Zachary Taylor refused to take office on the sabbath and was sworn in the next day. Polk's Vice-President had resigned earlier as president of the Senate. That made Atchison, president of the Senate pro tempore, President.)
Now I'm hooked. On my next trip to Salt Lake, I'll search for Atchison. Maybe I'll discover not only something about my roots but just where Atchison fits on my family tree. Family legend has it that he slept through his entire term. I don't suppose the library has anything on that.
Before it's here, it's on the Bloomberg Terminal.
LEARN MORE