Pricey Loans With Perks
As rates rise, banks try new services to lure borrowers
Alison Stein Wellner
Jacking up prices when demand for your product is flat seems like a crazy strategy. Yet that's exactly what's happening with small-business lending.
Interest rates on small commercial loans--those under $1 million--have been rising steadily, reaching an average of 9.26% in the Federal Reserve's fourth-quarter survey (chart). Yet nearly 90% of senior loan officers polled by the Fed say demand for financing among small companies is flat or falling.
What gives? It's not as if banks have lost interest in entrepreneurs. The Small Business Administration estimates the total value of 1999 small-business loans at $398.5 billion. Nearly 70% of banks have increased their small-business sales forces, says the Consumer Bankers Assn.
The Fed is the culprit. "Interest rates for small businesses are going up because Federal Reserve rates are increasing," says SBA chief economist Robert E. Berney.
As a result, banks are scrambling for other ways to attract your business. More than 90% of banks polled by the CBA are increasing the number of specialty products they offer. These include everything from e-commerce consulting and Internet account access to concierge services (Connecticut-based Liberty Bank offers to make travel arrangements for clients). At the same time, loans are being bundled with other financial services, such as payroll, and health, life, and auto insurance--offered free or at a reduced cost, providing a de facto discount on the loan. Some banks even throw in free personal checking accounts for the business owner.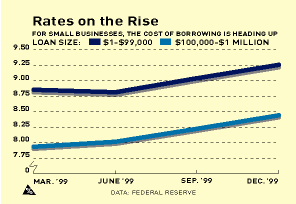 Anything, of course, except a break on interest rates. If you want that, try a small-business credit card. Several issuers still offer fixed rates below 10%, according to CardWeb.com, which tracks the credit card industry. HSBC offers a teaser rate of 5.9% for six months (it jumps into double digits after that).
All this comes amid signs that small-business borrowing could be on the rebound. Citing concern about slackening revenue growth, 24% of fast-growing small companies reported taking new bank loans in the fourth quarter of last year, up three percentage points from the third quarter, according to PricewaterhouseCoopers. If these companies are indeed harbingers of rising demand, it might be best to nail down a loan of your own before lenders rethink their generosity.
For more information on interest rates, click Online Extras at frontier.businessweek.com