Mc Dermott: An Oil Patch Bonanza?
By
McDermott International (MDR), the big oil-service company, has continued to lose ground in spite of the jump in crude oil prices: Its stock is down from 28 in early August to 11. James Marquez of Bayou Securities, which invests mainly in energy stocks, hasn't given up on McDermott because he expects its board to move toward: breaking up McDermott into three companies; settling a pending asbestos lawsuit against its Babcock & Wilcox unit; and scaling up its fuel-cell business through its contracts with the Defense Dept. and Energy Dept.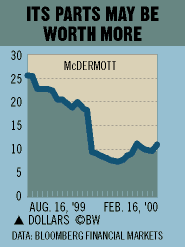 Marquez figures that the sum of the value of McDermott's parts is definitely worth more than its current stock price. Five months ago, McDermott bought the remaining 37% of oil-service firm J. Ray McDermott that it didn't yet own for $513 million. That puts the total value of Ray McDermott at $1.3 billion. The entire market value of the parent is $525 million, or 37% of the subsidiary's implied value five months ago. "That is a glaring disparity in the value of McDermott," says Marquez, and investors are getting for free Babcock and the BWX Technologies unit, which has developed fuel-cell technologies. He notes that shares of companies involved in fuel cells have been hot.