Look: Software Inside A Pen
By
In the summer of 1994, Communication Intelligence (CICI) was delisted on the Nasdaq and subsequently filed for bankruptcy protection. Enter an investor group headed by Philip Sassower, which put up financing to save the company and pull it from bankruptcy. Today, Communication Intelligence (CI) has a hot new product: software integrated in a pen for use on palm-size electronic organizers, hand-held PCs, and wireless phones. The software is used to authenticate signatures in documents transmitted via the Web, in "smart phones" now in use in Europe, and for e-commerce transactions as a means of preventing online fraud and theft.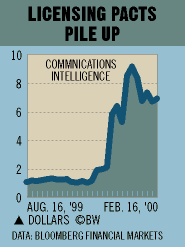 Since Sassower, now CI's chairman, installed new management, the company's stock has regained its trading rights on the Nasdaq. It jumped from just above 1 in August to 9 7/8 on Jan. 3, before dipping below 7 on Feb. 15. And Sassower has been busy signing up licensing pacts with major companies, including Ericsson, Microsoft, Fujitsu, Hitachi, Mitsubishi, and National Semiconductor. Ericsson will use the pen-based software solution in its new R380 cellular phones that give access to the Internet.
Analyst Raymond Mucci of investment firm Baird Patrick, which owns a big stake but does not follow the company, thinks the stock is on the brink of breaking out because of the positive story that's unfolding about CI's technology. The company, which posted revenues of $4.6 million in the first three quarters, is expected to more than double 1999's sales of $4.5 million by yearend. CI expects to be in the black this year.