Consumer inflation in Britain remained under control in January, but worries about stubbornly high services inflation in a very strong economy are likely to force further hikes in interest rates. The overall retail price index and the underlying rate, which excludes mortgage costs, each fell 0.4% in January from December. Overall annual inflation is now 2%, with the underlying rate at 2.1% (chart).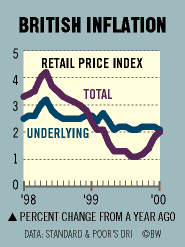 Sterling's strength, however--especially its 16% rise vs. the euro in the past year--along with greater competition, has pushed goods inflation to zero, while services inflation has picked up, to 4.2%. For example, apparel prices fell 3.5% from a year ago, the largest drop since 1953, but inflation in "non-shop" services, such as insurance and bus fares, is 7.1%.
The Monetary Policy Committee's dilemma is that service inflation, fueled by strong domestic demand, is much less sensitive to interest rates and the pound than goods inflation. Should sterling weaken, overall inflation pressures could build rapidly.
Before it's here, it's on the Bloomberg Terminal.
LEARN MORE