Commentary: A New Safety Net For The New Economy
By
With the nation enjoying its lowest jobless rate in 30 years, state unemployment-insurance trust funds are bulging with $48 billion in unused funds. Last May, President Clinton said he wanted to use the surplus to pay workers who want time off to care for a new baby. He renewed the call in his Feb. 12 radio address, even as the Labor Dept. was drawing up rules that would let states use their unemployment funds to finance paid parental leave.
But before dishing out the surpluses as an election-year favor to voters, the Administration should reassess the unemployment insurance system as a whole. Simply put, the 65-year-old system hasn't kept pace with a changing workforce. The share of jobless workers collecting benefits has shrunk from more than 50% in the 1950s to 36% today (charts). Many of the uncovered are part-timers, temps, and other contingent workers whose ranks have swelled with the New Economy. States have excluded other workers by tightening eligibility rules.
The jobless system should be updated to accommodate the changing workforce. Paying for parental leave might make sense in that context. After all, unemployment insurance was designed for an era when fewer mothers held jobs. But first, policymakers should examine the costs to see what we can afford--in good times and bad. "The question is, who should we bring into the system first"--workers who lose their jobs, or parents of new children? asks Wendell Primus, a policy expert at the Center on Budget & Policy Priorities, a Washington think tank.
The unemployment system was created when the typical worker was male and worked full-time. But today, contingent workers are roughly a third of the workforce--some 43 million--up from 27% in 1980, according to Working Partnerships USA, a temp worker group in San Jose, Calif. Most are ineligible for jobless benefits.
Bringing these workers into the unemployment-insurance system probably wouldn't cost that much. With jobless rates low, states pay out $19 billion a year in jobless benefits but collect $30 billion from the unemployment-insurance payroll tax on employers. It would likely cost $9 billion a year more to restore the share of jobless workers covered by unemployment to 50%, estimates Primus. So most states could afford to modernize their systems.
RISKY POLITICS. The problem would come in the event of slower growth --and higher unemployment. In 1992, when the jobless rate hit 7.5%, states as a whole dished out $38 billion in jobless benefits, and some were forced to borrow from the federal government. Today's fat surplus and extra inflows might allow states to get through another slump without going into the red again, even if they were spending the extra $9 billion on higher coverage. But paid parental leave, which experts say could cost as much as another $9 billion or so a year, could break the system.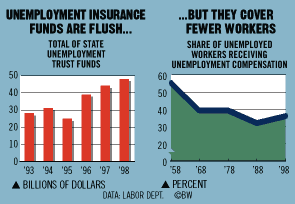 That means the U.S. may not be able to cover more workers and pay new parents to take a leave. The former should be the priority. If the Administration is serious about the latter, it could take the politically risky step of asking employers to foot the bill. Since 1992, 20 states have cut unemployment-insurance taxes, which have dropped from 2.51% of wages to 1.92% today. Restoring the old rate would add some $5 billion a year.
Paid parental leave would be a boon to low-income workers and single parents. But part-timers and others also need help to navigate a fast-changing job market in the New Economy. Both goals are good policy--but not when they're pitted against each other.