Brazil: Laying The Groundwork For Recovery
by
After two years of virtually no growth, Brazil's economy is coming back to life. Real gross domestic product grew 1.4% in the fourth quarter from the third. Meanwhile, industrial production surged 3.1% in December, its biggest leap in 19 months.
In recent weeks, economists have slightly raised their estimates for 2000 GDP growth to 4% (chart). However, the pace of the recovery will depend largely on the Central Bank's ability to reduce the 19% benchmark interest rate. Since the bank has vowed to fight inflation, it is wary of big rate cuts. But with consumer prices rising just 8% annually, the bank is expected to trim the rate by at least 25 basis points by April.
The government is also starting to tackle its $65 billion budget deficit. The drop in interest rates from 45% after the January, 1999, devaluation of the real to the current level will allow the deficit to fall from 10.6% of GDP to under 4% by yearend.
Importantly, Brazil is making structural changes that will help the fiscal accounts over the long term. In a special session that ended Feb. 14, Congress moved to limit federal, state, and local government spending and to ban the hiring of public employees in the last six months of an elected official's term. But the measures must be approved by the Senate in March or April.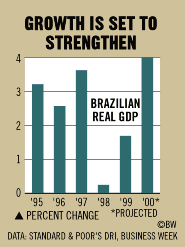 After weakening to below 2 to the dollar last year, the real has strengthened to 1.77, close to its best level since last July. Meanwhile, foreign direct investment hit a record $29 billion in 1999 and should surpass $20 billion again in 2000. The Sao Paulo stock exchange is up 49% in dollar terms over the past three months on renewed optimism about the economy.
As for Brazil's trade accounts, the 1999 devaluation is finally starting to pay off. A $4 billion surplus is expected for 2000, compared with a $1 billion deficit last year. But the surplus could be threatened if consumer demand for imports surges during the recovery.
Before it's here, it's on the Bloomberg Terminal.
LEARN MORE