Will Ballpark Nouvelle Hit A Grand Slam?
Mark Hyman
With everything from nouvelle American to authentic Chinese to vegetarian Zen available in San Francisco's restaurants, you would think that the opening of one more place to dine would bring yawns. But San Franciscans expect the hottest new eatery, scheduled to open in March in the downtown China Basin district, to surpass in popularity even Wolfgang Puck's Postrio and La Folie, a Julia Child favorite. That's because the new place, which doesn't take reservations, is the 40,800-seat Pacific Bell Park.
The $306 million park, which is perched on the edge of San Francisco Bay, is the brand new home of the San Francisco Giants. It's designed to be warmer and more comfortable than the windswept, much-maligned Candlestick Park. And one way to the fans' hearts, the owners figure, is through their stomachs.
Ballpark cuisine? We're not talking peanuts, popcorn, beer, and franks here, although they will be offered. It's Ballpark Nouvelle that's creating the buzz.
Let's say you've bought tickets on the swank club level. You get off the elevator or the escalator and make your way past a row of specialty food stands, called bistros. At the Asian counter are Chiang Mai pork satay (slices of pork in green curry and shredded coconut) and wasabi salmon rice bowl (grilled wasabi and sake-glazed salmon served over rice). At the Italian stand, it's pizza bianco (clams, garlic, and mozzarella) and herbed flatbread wrapped around a choice of four salads. The American Grille has your all-beef hamburger, of course, but there's a vegetarian burger, too--a marinated and grilled portobello-mushroom cap. Elsewhere in the ballpark, food stands will feature local cuisine: pumpkin-and-sage ravioli or perhaps bouillabaisse.
PIE AND TRIPE. Sounds a little too heavy for a hot summer day? Then saunter over to one of the food carts dotting the ballpark's concourses--not exactly your old man's hot dog stand. The produce cart sells fresh mozzarella on a stick, corn on the cob bathed in garlic butter, and basil-and-garlic marinated tomatoes. On the coffee cart: latte or double-espresso and biscotti.
Snooty or not, it's high time baseball fans got some decent grub. Since the game was first played, in the 19th century by men in pantaloons sporting handlebar mustaches, there has been little to recommend a meal at a ballpark except the fact that a vendor carried it to your seat. If the hot dog was hot and the cold drink was cold, fans figured they were ahead of the game. The food was enough to subdue anybody's appetite, and often did.
O.K., so it wasn't always franks and pop. As far back as 1880, the Cincinnati Red Stockings, the first Major League Baseball club, served what was probably decent beer in the stands. By the 1910s, most ballparks offered tidbits such as pie and tripe, according to Jonathan Fraser Light, author of The Cultural Encyclopedia of Baseball.
By 1950, the food concession was a big business, if not always a tasty one. On average, each Major League park that season served up 700,000 sodas, 600,000 hot dogs, 500,000 ice cream bars, and 400,000 bags of peanuts. By 1960, when the Giants started in Candlestick, fans grumbled but still gobbled down what was available. Nobody did anything about it until an investor group purchased the Giants in 1993. The new owners asked fans what bugged them most about coming out to games, and "right at the top of everybody's list was food," says Laurence M. Baer, team executive vice-president.
HESITANT CHEF. Complaints varied in substance and ferocity, but many fans cited "long lines and stale presentation," notes Baer. The new owners hired a concessionaire who served up tastier fare ranging from fried calamari and garlic french fries to tofu hot dogs (quickly benched). But many items performed well, and lines snaked down the narrow concourses. Last season, fans chowed down an estimated 5,000 orders of the fancy fries alone at every game.
The brass took note. When the owners began planning the move to Pacific Bell Park, they commissioned Volume Services Inc., which had been overseeing concessions at Candlestick, to come up with a still hipper menu for the new facility. They ordered an even tonier menu for the ballpark's exclusive areas--the 67 luxury boxes and 7,800 club seats. That caterer, Bon Appetit Management Co. in Palo Alto, Calif., also feeds workers at Oracle, Cisco Systems, Hewlett-Packard, and other Silicon Valley corporate campuses.
But that's small beer. Feeding 40,000 customers at 81 baseball games a year is a daunting prospect, and "I was hesitant to do this; it's not our core business," says Fedele Bauccio, Bon Appetit's chief executive. Although his chefs were accustomed to serving up thousands of meals daily for sophisticated palates, the notion of doing it at a baseball stadium was risky. That's because Bauccio insists that all of the dishes--even the pizza dough--be made from scratch when possible. What's more, while few mind waiting 20 minutes for a meal in a fancy restaurant, ball fans expect to be served and back in their seats before Barry Bonds wallops his next home run. "The Giants told us: `We want to bring up [the quality] four or five levels, and we think you guys can do it,"' recalls Bauccio. "We thought about it a long time and decided it could be fun."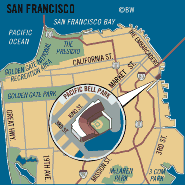 It required ingenuity. Bauccio discovered the salad wraps on a scouting mission to Japan. The hot dogs come from Chicago. "We must have tested 30 to 40 and gone to I don't know how many stadiums," recalls Bauccio. The winning wiener: Big City Reds, picked for taste and texture.
The team and Bauccio have plenty riding on the upgrading. The Giants estimate that fans in the main seating area will spend $8.50 per head, up from $6 in the old stadium. And customers in the luxury boxes will shell out $20 apiece. Prices haven't yet been released, but Bauccio claims they'll be reasonable. "I know one thing: If it's too expensive, people won't buy it."
The rice cookers and steaming grills at Pacific Bell Park won't be fired up for a few more weeks. But when they are, expect a strange new chant rising from the stands: Pass the cilantro!
Before it's here, it's on the Bloomberg Terminal.
LEARN MORE