Rebels Can't Fix A Broken Economy...But They Can Pave A Few Roads
Suzanne Timmons
Chano Rincon, his long-sleeved shirt open to the waist, leans against a tree in San Vicente del Caguan's main plaza, taking refuge from the scorching sun. Other farmers from surrounding communities lounge on the grass. At one end of the square, a band plays music from Colombia's plains. If it weren't for the camouflage-clad rebels milling at the edge of the crowd and placards such as "No to gringo invasion, yes to social investment," the day would seem like a Saturday festival in any other pueblo.
These days, though, not much about this bustling cattle town of 15,000 is like any other place in Colombia. President Andres Pastrana placed San Vicente and four other municipalities--a Switzerland-size area in the southern lowlands--under undisputed rebel rule a year ago to facilitate peace talks with the Revolutionary Armed Forces of Colombia (FARC), the country's largest rebel group. As the talks take place near here, FARC rebels have become a part of San Vicente's everyday landscape, tooling around in dark green SUVs and strolling with assault rifles slung across their backs. Nobody in the plaza that December day gave them a second glance.
Some residents say the FARC organized the protest. The rebels asked a local company to provide free transportation for farmers and paid for the gasoline. And a FARC leader in civilian clothes acted as MC as several thousand demonstrators gathered. But regardless of who was behind the protest, what's certain is that the local economy has only worsened since the peace process began.
The area's rolling hills and green plains, once full of grazing beef cattle, are now nearly empty. Many ranchers sold their cattle and fled, fearing they would become kidnap targets or that their cattle would be confiscated. Some distributors now refuse to deliver to San Vicente; others won't send merchandise unless it is paid for in advance outside the zone, says Hernando Rodriguez, vice-president of the local retailers' association.
Fed up with their lousy economy, the farmers gathered in San Vicente to send a message to Pastrana. After a year of hosting efforts to end nearly 40 years of war with the FARC, local residents want something in return. The region needs better health services, schools, roads, and "a place where farmers can go to sell their goods at a fair price," Rincon says.
"HUGE NEEDS." Admittedly, funds are scarce. Bogota is trying to pull the country out of a deep recession and narrow its fiscal deficit, too. But "everybody expected that investment would come with the demilitarized zone," says Alberto Paredes, president of Agrodes, an agricultural group that ostensibly sponsored the demonstration.
The government has in fact spent more than $5 million on roads, housing, clinics, and electricity in the zone over the past year. But as a representative in the office of the high commissioner for peace says: "Any investment is small compared with the huge needs." Bogota may soon have more to spend, since the Clinton Administration on Jan. 11 said it would ask Congress for nearly $1.6 billion in aid for Colombia over the next two years, a huge jump over the $300 million for 1999. While 80% of the aid would go to the war on drugs, some is earmarked for rural development. Now it remains to be seen if Washington ponies up--and if any cash trickles down to San Vicente.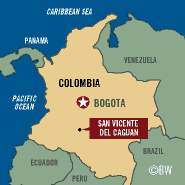 While Bogota has made only what Nestor Leon Ramirez, president of San Vicente's peace commission, calls "small investments," the FARC has been paving roads. Starting with the poorest neighborhoods, the rebels have helped lay asphalt on 65 streets so far out of a targeted 100. More affluent residents were asked to donate money for the project; poorer Sanvicentunos pitched in with manual labor and food.
The project is often a headache for Comandante Mauricio Gareka, the FARC's informal public-works engineer. Stopping to check on progress on a steep, rocky road, Gareka complains about the lack of support from the city. "You need a lot of money for this," he said, sweating in his heavy dark olive uniform. "And I don't have any. We're doing this work with our fingernails." But that hasn't stopped Gareka from dreaming up his next project: "I want to start building housing, too."