It has been no trek to the stars for Priceline.com (PCLN), despite its TV ads featuring Star Trek's William Shatner. With the market turning its back on many Net stocks, Priceline.com slid from 77 in August to 59 on Feb. 2. But some pros think it has been oversold.
Money manager Vince Carrino of Brookhaven Capital Management believes Priceline.com is on the way back up. "Selling by insiders and early venture-capital investors," he says, "including Paul Allen and General Atlantic Partners, depressed the stock." Delta Air Lines also unloaded its 5% stake. But nothing fundamental was behind the stock's decline, says Carrino. "Here's an Internet company that has beaten analysts' estimates--yet it's way off its high of 165," says Carrino. Priceline.com lets buyers save money by naming their own price.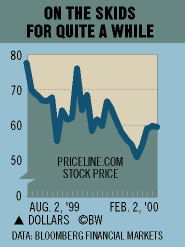 Priceline has developed a "truly revolutionary pricing system" for products from air tickets to phone service, says PaineWebber analyst Sara Farley, who has a 12-month target of 95. It's just the beginning, she adds, noting that Priceline.com can expand into groceries, car sales and rentals, and credit cards. In the fourth quarter, the company added 982,000 new customers, bringing the total to 3.8 million.
Timothy Fogarty of ING Barings expects Priceline.com to maintain its aggressive expansion internationally and into new products. He expects Priceline.com to post a loss in 2000 of 21 cents a share on revenues of $1 billion. For 2001, he sees earnings of 4 cents on revenues of $1.3 billion.