Lafite, Margaux, Haut Brion...Concha Y Toro?
The Chilean winemaker is making a risky move upmarket
Greg Brown
The view from the front offices of Chile's Vina Concha y Toro winery outside Santiago would take the edge off any executive's hectic day. Terraced garden steps lead down from the ivy-choked founding family's mansion to a lake dotted with water lilies. Beyond acres of manicured lawns and evergreens lie vineyards and a polo field.
But Concha y Toro Vice-Chairman Rafael Guilisasti has no time to kick back and stare out his office window. He is too busy attending to the birth of a new line of upmarket chardonnays and sauvignon blancs. The new line, to be christened Concha y Toro, will fill a niche just below the company's award-winning cabernet, Don Melchor. Due out by midyear, it's part of the century-old winemaker's push to gain entry into the club of premium wines dominated by French and Italian vintners.
TOP EXPORTER. Concha y Toro's foray into fine wines is the latest stage in the company's evolution from a small, local winery into an exporting powerhouse. It's also an example of what's happening more broadly in Chilean industry, as companies seek out ways to add value to their commodity exports. Concha y Toro is revamping its old standby table wines and introducing vintages formulated specifically for foreign palates. That way the Chilean winery hopes to complement its cut-rate supermarket sales with a move onto the wine lists of fine restaurants, where comparable French and California vintages fetch $20 or more a bottle.
So far, the new strategy is paying off. "Demand for our better wines is greater than our capacity to produce them," notes Guilisasti. Revenues from exports of premium wines were up 14% in the first nine months of 1999. In contrast, total revenues were down slightly in the same period, to $119.3 million, while net income was nearly flat at $16.8 million. The recession in Chile hurt, as did overstocking by Japa-nese distributors in 1998. Still, Concha y Toro retains its title as Chile's No. 1 maker and exporter of wines.
Premium wines now make up a third of the company's revenues. But Guilisasti wants to push that share higher. He's aggressively marketing the fine wines, not just abroad, but at home, too. Chileans can visit Concha y Toro's e-store (www.vinoscyt.cl) to get home delivery of its classy chardonnays and merlots. "The bet of this virtual store is that Chileans will drink more fine wines," Guilisasti says. That includes wines such as Almaviva, a polished blend of cabernet sauvignon and merlot that retails for about $60--or six times the price of Concha y Toro's flagship cabernet, Casillero del Diablo. Almaviva is the product of Concha y Toro's 1997 joint venture with France's Chateau Mouton Rothschild.
STOCK DOUBLES. Concha y Toro's move into more expensive wines follows an investment program and export push for its cheaper lines that began in 1991. That $150 million program more than doubled the size of its vineyards. Concha y Toro took advantage of the growing demand for affordable wines in the U.S., Europe, and Asia during the 1990s. "It was the right time, and Chile was able to supply the wine the market wanted," says wine industry economist Jon Fredrickson of Gomberg, Fredrickson & Associates in San Francisco. But now competition is intensifying from fledgling wineries from New Zealand to South Africa. That's putting pressure on the profit margins of low-priced wines and hastening Concha y Toro's move upmarket.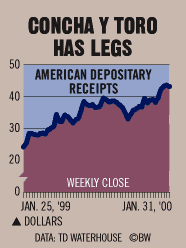 Concha y Toro's foray into fine wines carries some risks. For one thing, it will bring the Chilean vintner into direct competition with well-established French wineries. Concha y Toro could also run into problems if it boosts prices faster than quality. But if such dangers exist, investors don't appear to be troubled by them yet. The price of Concha y Toro's American Depositary Receipts has nearly doubled over the past 12 months, to $43. Cristian Moreno, a Santander Investment analyst, predicts a 12% volume increase in the company's overall exports this year.
With bright pros-pects for 2000, Concha y Toro executives are now talking of razing the polo field that borders headquarters to make way for more vines. No one plays polo there anymore. And these days, every grape counts.
Before it's here, it's on the Bloomberg Terminal.
LEARN MORE