Britain: Girding For A Tough Rate Regimen
by
Britain's economy is enjoying its longest expansion in the postwar era, and now even the desultory manufacturing sector is showing some momentum.
Real gross domestic product grew 0.8% from the third quarter to the fourth (chart). Construction, services, and manufacturing all contributed to the fourth-quarter advance, which was the 30th consecutive rise in output.
More important, other data suggest that the gains will continue. The Confederation of British Industry's January survey showed improvement in orders, employment, and output. And the purchasing managers' indexes for manufacturing and construction also showed increased activity in January.
Robust growth whittled the jobless rate down to a 20-year low of 4% in December. But Britain's tighter job markets come at a time when productivity is lagging behind the rest of the major industrial nations, according to the government. And that combination of weak productivity growth and tighter labor markets is why inflation remains a vital concern to the Bank of England, even though core retail prices, which exclude mortgage costs and some taxes, rose just 1.8% for all of 1999, down from a 2% pace in 1998.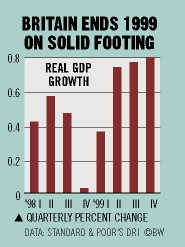 The BOE believes that future inflation news will show growing cost pressures. That's why the central bank has already started to tighten monetary policy. The BOE hiked its repurchase rate by a quarter point, to 5.75%, on Jan. 13, the third move in five months.
Moreover, the minutes of the meeting stated that increased consumer borrowing and wealth gains from both the stock market and home prices "would tend to support robust consumption growth." That, in turn, "would put upward pressure on inflation in the future," even if productivity picks up. That clear warning has caused private economists to expect very aggressive tightening by the BOE, including a possible half-point hike in the repo rate in February. And some even expect hikes totaling a full percentage point in coming months.
Before it's here, it's on the Bloomberg Terminal.
LEARN MORE