The Car That's All Brains, No Beauty
Designer J Mays talks about the futuristic features of Ford's 24-7
In January, at the North American International Auto Show in Detroit, Ford took the wraps off its quirky, "24-7" show cars. These are plain, squared-off boxes that seem to sacrifice exterior styling for the sake of a wired, Internet-centric interior. These cars are packed with futuristic features, made possible by voice-activated, Net-based communications systems. They can be customized for multiple drivers, with options ranging from different sets of dials on the control panel to a different "ride" based on modified steering and suspension. At the show, Detroit Bureau Chief Kathleen Kerwin, Online Contributing Editor Thane Peterson, and Associate Editor Dan Buecke took a simulated drive with the man who created the concept, design Vice-President J Mays. Here are excerpts from their adventure:
BW:

O.K., what's the deal with these cars?

Mays: What we do at Ford isn't simply about bending sheet metal. [We're] allowing people to feel that they have control over their lives or have an emotional link with their friends. That's what this vehicle is all about. We feel it's one of the first innovative interiors in about 30 years. We did this with Visteon Automotive Systems [Ford's automotive-parts subsidiary], so the technology is real. The voice-activation is absolutely for real. It's going to be available almost immediately on Lincolns. The back screen projection system [which can show movies] is another Visteon system. We're probably about two and one-half years from realizing that [in the marketplace]. Probably the furthest out is voice-activated e-mail and Internet access inside the car. We're probably three to six years out on that.
BW:

Why will it take so long?

Mays: Everyone's voice inflection is different. Your inflection is different from mine, and mine is different from [Ford CEO] Jac Nasser's. It's quite a complex technology. The other aspect of this car is something that people in the auto industry don't like to hear: Most people are not car fanatics. Most people need commodities that take them from point A to point B and [there are] a lot of other things that are more important to them than worrying about: "Do I have 400 horsepower under the hood, and is the car low and swoopy and sexy?" My point is, why aren't we going after that customer with a car shaped by a totally different set of values--a car not shaped by automotive values, but by what really interests people in their lives? The 24-7's dashboard is an instrument panel you should think of as a communications portal.
BW:

With the plain design, are you saying: "Don't even think about the exterior?"

Mays: Yes, exactly. That is the kindest thing I've heard anyone say about the exterior. The design is supposed to be minimalistic because we didn't want to talk about the exterior, we wanted to talk about the communication links. There aren't traditional headlamps or traditional tail lamps. It's just a package the technology can rest in. That has been hard for some people to swallow. I always say: "Don't worry. We're not going to start making Jaguars that look this way."
Mays speaks toward the 24-7's dashboard: "System, start up." The car's systems start to boot up.
BW:

What's happening now?

Mays: We've programmed a fictional family of four into this vehicle, the Hayes family. Steve and Nathalie are in their early 40s. Daughter Elizabeth is off in college. Jack is a rambunctious 17-year-old high-school student and pizza-delivery boy. The point is that they've all got different lifestyles. So let's look at the mother and Jack. Nathalie has no interest in cars whatsoever. She views them as an unfortunate necessity. What she's really interested in is her family and gardening.
Mays instructs the car: "Select driver Nathalie." Car responds: "Selected." A luminous dashboard presentation lights up.
Mays: What we have here is Nathalie's world, Nathalie's DNA. It isn't an auto maker telling her: "This is what your [dashboard] has to look like." There's a little flower arrangement [illuminated on the dash], kind of an electronic wallpaper. She has two photos of her kids skiing at Aspen on their last vacation and a photo of her wedding day. She's not interested in cars in the least. She only wants to know how fast she is going and when she needs gas. Other warning signals would come on automatically as needed, but Nathalie has programmed this dashboard with only a speedometer and fuel indicator, [so it] looks how she wants it to look.
BW:

And she can change it just like she could change her wallpaper at home?

Mays: Exactly. It's like rearranging your furniture. Depending on your mood, that's the way it looks in your vehicle. Now, let's create a scenario: Nathalie wants to meet a friend at a new cafe she has heard about. But she doesn't know where it is. So she gets on the Global Positioning System.
Mays instructs the car: "Find Cafe Claude." Car responds: "Located." A map appears on the dash.
Mays: This allows her to get safely and efficiently to her destination. Just as with a Global Positioning System [one can buy] today, she would get instructions like "turn left at the next intersection" that would guide her to her destination.
Finished with Nathalie, Mays tells the car: "Select driver Jack." Car responds: "Selecting." Once Jack's dash appears, Mays says: "Play CD two." Car responds: "Playing."
BW:

What's Jack's story?

Mays: Jack is interested in two things: Girls and music. I'll show you what his world looks like. When Jack gets in the car, the first thing he wants is to have the music on. He's got his [CD by the group] Poison running. He likes track seven, so it starts with that. He gets the equalizer because that's important to kids. Sometimes he has photos of his friends up. And he likes to drive. So he programs the vehicle [to] automatically change the suspension [when he is driving], which allows him to have far cooler driving dynamics than Mom, who wants a soft ride. He's got an RPM gauge so he can see what the revs are.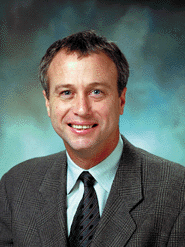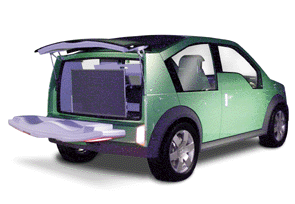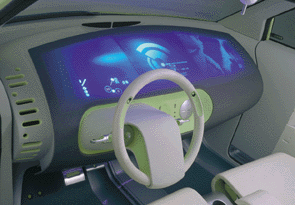 Now Jack wants to go to a rave club, but doesn't know where it is. He doesn't just want the map for himself. He wants to save the map just like you would on a computer at home and send it on to his friends.
Mays instructs the car: "Find South Dock Warehouse." Car responds: "Locating." A map comes up, and Mays tells the car to save the map. Next, he instructs the car: "Send map to Joe@Mindspring.net." The car responds: "Sending."
Mays: This message would arrive in Joe's e-mail at home, or if Joe is also driving a 24-7, he'd have e-mail in his car. That's a very simplified overview of how the car will work.
Before it's here, it's on the Bloomberg Terminal.
LEARN MORE