Singapore Telecom: If You Can't Beat 'Em...
It may marry its Hong Kong rival
by
For such a cautious place as Singapore, the boldness of the move surprised everyone. As citizens headed home on Friday, Jan. 21, the government announced it would remove restrictions on foreign investment in its telecom market by Apr. 1--two years ahead of schedule. When they returned to work on Monday, they were hit by an even bigger bombshell: State-controlled Singapore Telecommunications Ltd. was negotiating a "merger of equals" with Cable & Wireless HKT, the former telecom monopoly of Hong Kong. Provided a rival bid for HKT doesn't thwart the deal, it will be the biggest cross-border Asian merger ever. With a market capitalization of nearly $60 billion, the combined companies also will be one of Asia's biggest telcos.
The idea of Singapore Inc. sharing control of one of its most coddled and lucrative assets would have been unthinkable even a couple of weeks ago. Then again, few expected SingTel, run by Lee Hsien Yang, the son of powerful Senior Minister Lee Kuan Yew, would embark on a sweeping effort to reinvent itself. By joining forces with HKT, 54% owned by Britain's Cable & Wireless Communications PLC, SingTel may achieve a goal it could not finesse on its own: a pan-Asian presence.
CATCH-UP. With the Singapore government as the biggest shareholder in the combined company, holding a 40% stake, SingTel also could position itself as a leader in what many believe will be a major shakeup of Asia's once sheltered telecom sector. While U.S. and European firms rushed into Asia in the 1990s, many stubbed their toes during the region's meltdown. Asian telcos fared no better. "This will clearly help create a sense of urgency to deliver services on a regional basis," says Todd Abbott, vice-president for Asia of Cisco Systems (USA) Ltd. in Singapore and a board member of the island's Infocomm Development Authority.
The chief rationale for the merger is size. SingTel was slipping into irrelevance in the last five years, tumbling from the world's sixth-largest telco in market value to No. 21, says a company adviser. With consolidation rampant in the global telecom business, the two companies decided they need heft. "The new company will be able to attack Asia before the European and U.S. players are ready," contends Joseph Ravitch, Asia managing director for Goldman, Sachs & Co., which is representing SingTel.
Singapore Inc. is playing catch-up. With its tiny domestic market of just 4 million people and political instability besetting its giant neighbor Indonesia, Singapore wants its business to diversify and gain global scale. It brought in a foreigner in 1998 to head a regional push by state-owned DBS Bank. And Singapore Airlines just took a 49% stake in Britain's Virgin Atlantic Airways.
Still, there's skepticism that a Singapore-controlled giant can turn itself into a quick and nimble telco. SingTel needs to do something to reach the big leagues. It has been outmaneuvered by Internet upstarts Pacific Internet and Cyberway. And despite its hoard of $4 billion in cash, it has failed to significantly expand overseas. SingTel wrote off hundreds of millions of dollars on an investment in Indonesia when the rupiah tanked in 1998.
The company came under heavy criticism last year at home, when it triggered a brutal Internet price war. To boost share, its service provider, SingNet, did not charge subscribers when they dialed in to access the Web. Customers of other ISPs, which rely on SingTel's local fixed-line phone service, had to pay. This angered other state-linked companies that planned to cash in on Singapore's fast-growing Net market. SingTel Chief Executive Lee was put on the defensive. "If we don't become aggressive, we are called monopolistic," Lee said in an interview last fall. "If we are aggressive, we are accused of being predatory. What are we to do?"
PROFIT SLUMP. The companies will swap stock to meld businesses ranging from mobile communications to Net services. As part of the deal, C&W will cash out some of its shares in HKT. Later, the British company will likely sell the rest of its 20% stake in the new company, finishing its exit from Hong Kong. But for now, the cash will help C&W build up its data and Internet services around the globe. It will "free up resources, both management and financial, that we can devote to growth in our areas of strategic focus," explains C&W spokesman Peter Eustace.
Combined, SingTel and HKT also will have a better chance of going head to head with global juggernauts for Asia's rapidly growing corporate market. The new venture would secure a dominant position in two of Asia's key business hubs, and expand its reach further by buying stakes in more Asian companies. The new company is expected to have a board comprised of all Asians, which should help. Other likely targets are Thailand and the Philippines, where SingTel holds minority stakes in local companies, as well as Taiwan and Australia. "It would be difficult to match their power," says Bertrand Bidaud, Asia research director at Gartner Group Inc. "They'd be the only true Asia-Pacific operator."
Promising. But it may still be a rough ride. C&W HKT and SingTel suffer from common weaknesses. They are losing market share at home and seeing a slump in profits. "Both companies face increased competition and are desperately looking for ways to expand," says Jonathan Shaw, telecom analyst with Schroders Asia in Hong Kong.
There's also still a lot of negotiating to do. The main sticking point for the merger could be the issue of management control. Such touchy points have derailed buyout attempts by other government-linked companies, such as Singapore Airlines' 1999 attempted linkup with Ansett Australia. Singapore will supposedly share management with HKT, even though it's the biggest stockholder. Still, Hong Kong regulators could raise hurdles, even though the city doesn't have any limits on foreign ownership.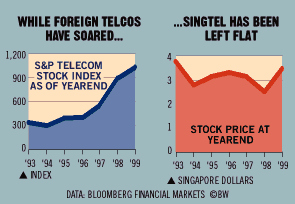 But SingTel has good reason to make the merger work. The Singapore government's abrupt decision to throw its telecom market wide open signals a new realization by the island's mandarins: Keeping the barriers high just lowers Singapore's chances of becoming Asia's telecom hub. Hong Kong is also probably the easiest foreign market for SingTel to operate in, thanks to similarities between the two cities. And if SingTel doesn't move on HKT, someone else probably will. All powerful reasons for Singapore Inc. to forget its customary caution and learn the scary art of risk taking.
Before it's here, it's on the Bloomberg Terminal.
LEARN MORE