Seeing Cracks In The Baby Bells
Cheap long distance and lots of new players may spell trouble
by
In rapid succession, on Jan. 24 and 25, Bell Atlantic, BellSouth, and SBC Communications reported fourth-quarter earnings that met or exceeded Wall Street's expectations. Net income in the fourth quarter edged up 8% for SBC, Bell Atlantic's jumped 12%, and BellSouth's soared 21% over 1998 levels.
You'd never know it by looking at their stock prices, though. Bell Atlantic Corp. and BellSouth Corp. shares rose a sliver, and SBC Communications Inc.'s sank nearly 5%, to 39. But that's par for the course for Bell stocks lately. Since Dec. 1, SBC is down by over 22%, Bell Atlantic is off by 10%, and the Standard & Poor's Telephone Index, which is heavily weighted to these regional phone companies, has plummeted some 10%.
The problem: Investors don't know what to make of the Baby Bells' prospects in a rapidly changing telecom landscape. Not long ago, these companies seemed beautifully positioned in a deregulating U.S. market--poised to jump into the long-distance and data businesses with little threat to their residential local-calling markets. But just as Bell Atlantic becomes the first Bell to gain entry into the long-distance market, prices are plunging. Competition for customers in local markets is building--even before giant AT&T rolls out local-calling over its newly acquired cable network. And, in the race to sell high-speed data services, AT&T and other cable companies are also doing better than local phone companies.
All in all, there are too many questions hanging over the Baby Bells to let their stocks shine. "Uncertainty is the culprit," says Guy W. Woodlief, telecom analyst at Prudential Securities Inc. "Investors have taken a `show me' attitude with the Bells."
The latest bad news for the group comes in the new broadband business. Three of four have missed their targets for signing up customers for digital subscriber line (DSL) service (table). The shortfall is particularly damaging to SBC, which has boasted that its $6 billion DSL project is the largest broadband rollout. Company officials still insist they will have 1 million subscribers by the end of 2000, and the Texas-based Bell says it ended up delivering service to only 169,000 of the 200,000 customers it targeted in 1999. Still, says SBC CFO Donald E. Kiernan: "I predict we'll be No. 1 in terms of [broadband] market share by the end of 2000." Bell Atlantic was even less successful, reaching only one-third of its target.
The slow pace of the broadband buildup is troubling given the diminishing prospects for long distance. Since the Bells won the right to apply for entry into long distance in 1996--Bell Atlantic is operating in New York, and SBC is awaiting approval--the price of long-distance calling has plunged. In its latest earnings announcement, AT&T told analysts that its long-distance revenue fell 4.5% as it cut its quoted rates to as little as 7 cents a minute to keep up with the competition. It expects to cut thousands of jobs over the next several months in an effort to reduce costs.
Meanwhile, even as the rewards of long-distance fade, the giants of that industry are stepping up their plans to invade the Bells' local service territories. AT&T says it has signed up 150,000 customers for its combination of local and long-distance phone service in New York and that it will reach more than 700,000 by yearend.
THREATS. There's another new competitive threat, too: High-flying startups such as Level 3 Communications, Covad Communications, and Metromedia Fiber Network, which offer local service, usually to prized business customers. These companies, which are pushing triple-digit growth rates, command multiples far higher than those of the Bells.
So investors have redone the math on the Baby Bells and come up with more modest growth numbers. Not only are long-distance prices falling and local competition up, but the transition into long distance will cut off a lucrative source of income from access charges--the fees Bells charge long-distance carriers to connect calls in the local market. "The amount of money the Bells give up in terms of lost access charges is more than they gain in long-distance prices," warns Bell bear David Jordan, investment manager for FNC Trust Group, an investment firm in Fort Collins, Colo.
On the other hand, long-distance remains a key element in the "bundle" of services that both the Bells and carriers such as MCI WorldCom and AT&T want to offer. The Bells and long-distance providers know that their historic lines of business aren't enough to generate market enthusiasm. So they're hoping to sell long distance, local calling, high-speed Net access, even cable TV.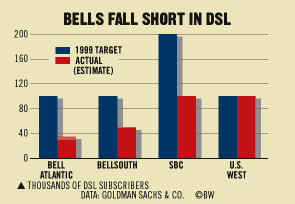 Bell execs are laboring furiously to speed up growth and move into digital communications. Bell Atlantic, BellSouth, and SBC each churned out double-digit hikes in wireless and data-service revenue in the fourth quarter, with SBC's 44% data surge leading the pack. Like its cousins in the local business, says Kiernan, SBC is trying to remake itself into a "data-centric" company. So how long before it unleashes the kind of growth the market demands? "We're right on the edge of busting this out," Kiernan promises. "We don't have to wait long for substantial growth--we can see it coming now."
Still, it won't be easy. To excel in the market's eyes, the Bells might have to align with the new breed of telecoms. Already US West Inc. has sold itself to long- haul data operator Qwest Communications International Inc. The result: a $67 share price and a 13.5% return on equity since the merger announcement. Ultimately, "I don't think many of the Bells will thrive on their own," says Robert Fox, vice-president and telecom expert at strategy firm Mercer Management. And that may be the hardest pill to swallow.
Before it's here, it's on the Bloomberg Terminal.
LEARN MORE