Mexico Pulls Off Another Trade Coup
The NAFTA-like pact with Europe will boost exports
Geri Smith
If ever there was living proof that free trade can pay big dividends, Mexico is it. In 1993, before the North American Free Trade Agreement took effect, the country exported $52 billion a year. Six years later, exports total $137 billion. And a newly minted accord with the European Union should take that figure even higher, furthering Mexico's goal of turning itself into a manufacturing hub for the Americas. The agreement, negotiated last year, was delivered to the Mexican Senate on Jan. 24 for ratification.
It promises to be a boon for both sides. Under the deal, which could take effect as early as July 1, European exporters of everything from wine to mobile phones get preferential access to the Mexican market, comparable to that now enjoyed by the U.S. and Canada. And except for some agricultural products, Mexico will have ample access to the European market. In addition, Mexico stands to gain billions in new investment as European companies expand in the Americas, using Mexico as a base. "The agreement places Mexico in a privileged position," says Mexican Undersecretary of Commerce Luis de la Calle.
Indeed, Mexican officials are hoping for another NAFTA effect. Since that agreement came into force on Jan. 1, 1994, foreign direct investment into Mexico has soared to nearly $12 billion a year, double what it was before the accord. The jump reflects the influx of U.S. and Canadian companies eager to tap Mexico's cheap labor and proximity to the U.S. market.
The Mexico-EU deal will make it easier for European manufacturers to set up operations in Mexico. As long as they include specified amounts of Mexican labor and parts in their products, they will be able to export to the U.S. and Canada, back to Europe, or to other Latin countries with which Mexico also has free-trade agreements, such as Chile and Colombia. "Mexico opens doors for us to the north and south," says Mendel Goldstein, the EU's chief negotiator on the trade pact.
The rewards of freer trade would be felt as soon as the accord takes effect. The EU has agreed to remove tariffs immediately on almost all Mexican industrial goods and to eliminate the rest by 2003. Mexico will automatically scrap duties on nearly half of EU-made industrial goods and lower tariffs on the remainder to zero by 2007. For Mexico, more trade with Europe allows it to curb its dependence on the U.S.--which now absorbs 87% of Mexico's exports. In contrast, exports to Europe amount to 7.6% of Mexico's total, down from more than 10% before NAFTA (chart).
VROOM. The biggest winner in this deal will be the auto and auto-parts industries. Mexico already exports more than 1 million cars and trucks a year, mostly to the U.S. Under the new accord, European carmakers with operations in Mexico will be able to export cars duty-free back to Europe by 2003, so long as 45% to 60% of vehicle content is made in Mexico. Volkswagen, which makes the New Beetle solely in Mexico, currently pays a 7% duty when it ships to Europe, but would not have to do that under the new pact. VW will have no problem meeting local content requirements. It already has persuaded dozens of its European suppliers to set up shop in Mexico.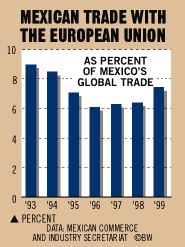 Manufacturers of appliances will also see gains as EU tariffs on items such as TVs fall from 13.6% to zero within three years. France's Moulinex is already betting on the pact. On Jan. 25 the company announced that it would be centralizing production of irons at its plant in Celaya in central Mexico.
As more European investment flows into Mexico, companies may face some challenges, however. Some manufacturers in Monterrey and Saltillo already complain about spot shortages of qualified personnel, says Luis Rubio, head of Mexico City's Center for Research & Development. "The day is not far off when we will see serious shortages of skilled labor in Mexico," he warns.
For now, though, Mexican officials aren't looking that far ahead. Instead, they're getting ready to toast their latest trade coup. Tequila and champagne would be appropriate.
Before it's here, it's on the Bloomberg Terminal.
LEARN MORE