Mail.Com's Busy Delivery Schedule
by
Mail.com (MAIL) hopes to be the ultimate global online bearer of the message: "You've got mail." The company provides online messaging services for Internet service providers, Web sites, and other businesses. Mail.com owns the rights to more than 1,200 domain names, such as Asia.com and India.com. "We are talking with several potential partners to develop these sites to offer a global selection of Internet services," says CEO Gerald Gorman, who aims to take India.com public by yearend 2000. India.com will provide search engines, directories, e-mail, and e-commerce products. A similar outfit, China.com (unrelated to Mail.com), went public at 20 a share; it is now at 85, with a market cap of $3.5 billion.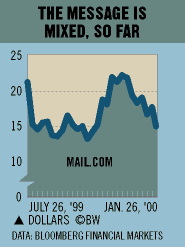 In the meantime, Gorman has been busy acquiring companies that deliver complementary services. A recent acquisition was NetMoves, which provides outsourced e-mail and fax delivery service. Mail.com's acquisition strategy broadens its product line and helps it gain access to new corporate customers, says PaineWebber analyst James Preissler, who rates the stock a buy. Mail.com derives much of its revenues from fees on outsourcing services, advertising, and e-commerce. Preissler estimates Mail.com sales in 2000 at $33 million, up from 1999's estimated $11 million. Mail.com has yet to make money. Preissler has a 12-month target for the stock, now at 15, of 50, based on expected earnings of $21 million, or 50 cents a share in 2001, on estimated sales of $71.8 million.
Before it's here, it's on the Bloomberg Terminal.
LEARN MORE