Is This Man Building The Amazon.Com Of Asia?
Hiroshi Mikitani's Rakuten cybermall is growing at Net speed
Irene M. Kunii
When Hiroshi Mikitani launched an online shopping venture three years ago, few in Japan were ready to bet on the Internet as the Next Big Thing in retailing. Only 5 million Japanese used the Net then, mostly for e-mail, and a handful of corporate giants controlled the little online commerce that did exist.
His gamble paid off. With online retailing now taking off, Mikitani has emerged as Japan's king of e-commerce. His cybermall, Rakuten, has grown from 13 shops in 1997 to 2,000 retailers ranging from major department stores to fish mongers and sake brewers. It also boasts 600,000 registered shoppers lured by aggressive pricing and ever-evolving services. More impressive, Mikitani's Rakuten Inc. is profitable: In 1999, the private company earned profits of $2.4 million on sales of $5.7 million. "We're on our way to becoming the first homegrown e-commerce success," says Mikitani, 34, whose usual garb--a polo shirt and khaki pants--makes him resemble a Silicon Valley transplant.
NOTHING LESS. Now, the stage is set for Mikitani's bid to join the ranks of new Net moguls. In a highly anticipated initial public offering, he will float a chunk of Rakuten in April on Jasdaq, Tokyo's over-the-counter bourse. With the $100 million analysts figure he can raise, Mikitani plans to add new services and expand beyond Japan. "Investors are looking for Internet companies with a more substantial track record, and Rakuten has substance," says Rowe Price-Fleming International Inc. fund manager Ian Macdonald, who thinks the IPO will do well.
Mikitani's ambition is to become nothing less than Amazon.com and eBay rolled into one, offering both online hub and auction services. Rakuten wants to set up in South Korea, Singapore, and Taiwan--and open its first foreign-language site for Asian shoppers by yearend. He also plans to acquire e-biz companies in Japan and abroad that could enhance his business.
First, of course, Mikitani must keep up the momentum at home. So far, his main rivals have been sluggish giants like trading house Mitsui & Co., which operates Curio City, a 700-shop cybermall. But now, investment firms like NetAge also are launching e-commerce ventures that could challenge Rakuten. And big U.S. sites like eBay are also targeting Japan. "He'll face challenges from rivals ready to undercut his prices," says
NetAge President Kiyoshi Nishikawa. "The test will be whether he can take his business model to another level."
So far, Mikitani's acumen has been impeccable. He learned about investment banking during a stint at Industrial Bank of Japan and about entrepreneurship at Harvard Business School, where he earned an MBA in 1993. He also founded a merger-and-acquisition consultancy, Crimson Group. Mikitani used his own funds to launch Rakuten.
To attract retailers, Rakuten charged them as little as $475 a year to appear on the site; other cybermalls wanted $3,000 to $10,000 when he started out. Merchants can edit their sites and do market analysis by accessing Rakuten's database and software. "We have two other sites, but nothing compares to the one on Rakuten," says Midori Hara, Net sales director for Niigata-based sake wholesaler Harasho. Mikitani has also boosted revenue by selling ad space for half the price of most rival portals. In 2000 alone, he expects that the number of retailers will swell to 5,000 and revenue will grow fivefold.
EXCITING. Rakuten has proved especially adept at building an audience. It has online auctions and a "flea market," where users sell up to 40,000 items every month; Rakuten gets a 5% cut. Its site, www.rakuten.co.jp, gets 70 million page views a month, ranking behind only Yahoo! and two other portals. An online translation service for merchants and other features are on the way. "I want to make Rakuten the most exciting place to buy, sell, or trade products and services," Mikitani says.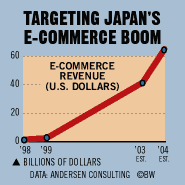 The growth prospects certainly seem bright. Japan's Net population, now 20 million, should balloon as mobile Net phones and portable computing devices proliferate. Andersen Consulting expects consumer e-commerce will explode from $3.2 billion last year to $66 billion in 2004.
That's just Japan. E-commerce is projected to boom around the rest of Asia, and soon, Mikitani could have a war chest to grab a generous piece of it. If Mikitani can stand up to the competitive onslaught, Softbank Corp.'s Masayoshi Son won't be the only Japanese Net tycoon to make waves on far-off shores.