Hoist A Few Cabs, Guv?
William Echikson
It's an oenophile's nightmare. Brits revving up stationary Vespas tour through a video impression of the Chianti countryside. They stroll past fountains while slurping down glasses of Spanish rioja. Claps of thunder sound overhead as visitors pass through a Burgundy vineyard. And at every destination, reds and whites from the region raise their spirits. After as much as four hours touring the globe's "vineyards," the merrymakers emerge red-faced and smiling.
Cheers! This is Vinopolis, the world's largest wine museum and amusement park. "We want to create a Disney-style magic about wine," says founder and director Duncan Vaughan-Arbuckle. So this Disneyized world of wine includes a museum, tasting center, shop, restaurant, and private party area.
There is a decidedly populist approach to the London park, of course. Forget about fancy books on tippling and obscure paraphernalia such as the medieval crushing equipment found in serious wine museums. Don't expect to taste many high-priced trophy wines, either. In a country best known until now for its room-temperature beer, the emphasis here is on fun. Vinopolis "isn't for the wine geek," admits Donald Hess, a Swiss business executive, winegrower in the Napa Valley, and investor in Vinopolis.
Located near historic Southwark Cathedral, just off the once derelict South Bank of the Thames in London, Vinopolis is targeted at novice wine drinkers. The City of Wine, as Vinopolis is subtitled, has attracted up to 5,500 visitors a week since opening last July; it projects 220,000 will come in the first year, and not all are hoi polloi. Shortly after the opening, Prime Minister Tony Blair gave a speech to London industrialists in one of the private party rooms.
"SENSE OF ADVENTURE." Among Vinopolis' democratic offerings is a cheap ticket. For a $20 admission charge, visitors tour 11,000 square meters of displays and sample five wines from a selection of 240, ranging from a generic Bordeaux to an upmarket Hess Collection California Chardonnay that would cost $8 per glass in an ordinary London bar. You can buy a second round of five glasses for only $4. The idea will appall any connoisseur who sees a danger in the demystification of wine and wine drinking. "It's a fine line between creating an educational museum celebrating the cultured, civilized aspects of wine--and a pub," worries Thomas Matthews, executive editor of The Wine Spectator, the world's largest wine magazine, a bimonthly with a circulation of 350,000.
But critics are a minority. Until recently, wine was an upper-class pursuit here, with the gentry enjoying port and claret, while the masses stuck with beer. "We have to get rid of this idea that wine is an aristocratic tipple only for people in tuxedos," says museum designer Jasper Jacob, who designed the Vinopolis exhibitions. Adds Alan Walker, managing director of Kimpton Walker, a scenery construction company that built the Vinopolis sets: "The idea was to put a sense of adventure into wine." Walker should know. His company worked on sets for Cats and Miss Saigon and helped design EuroDisney outside Paris.
Vinopolis is the longtime dream of 61-year-old Duncan Vaughan-Arbuckle, who was posted to Germany as a second lieutenant in the cavalry in 1958. There Vaughan-Arbuckle learned about wine. He returned to London a decade later and worked for an insurance company before becoming a wine wholesaler and retailer in 1979. "People kept coming in and asking me what wine they should stock, what was the story behind this wine, who makes them, and so on," Vaughan-Arbuckle says. "That's why I got the idea for bringing the culture of wine and vineyards under one roof."
In 1989, he sold his business to concentrate on Vinopolis. The next year he located a warehouse suitable for the enterprise and began serious fund-raising. Bankers "said it was too risky, too large, too ambitious," and turned him down, he recalls. Undaunted, he sold his house and moved into a flat above a Chinese restaurant. The restaurant's owner was a backer, and "he said he had to protect his investment," says the tweedy Vaughan-Arbuckle.
SISTINE CHAPEL OF WINE. Undaunted by the lack of financial backing, Vaughan-Arbuckle scaled back the project. "We had to scrap a lot of nice ideas," says Walker. For one, they eliminated a spoof of the Sistine Chapel ceiling that would have depicted the birth of wine instead of Michelangelo's creation scene. But Vaughan-Arbuckle eventually raised $7 million; then the British government chipped in $4 million in urban renewal funds. Additional investment money arrived when the forlorn South Bank suddenly started to look chic. Shakespeare's reborn Globe Theater opened in 1998 just around the corner, and the Tate Gallery's new building, an eight-minute walk away, will open in May.
Just as important, Vinopolis coincides with a jump in wine drinking among the British--up threefold over the last decade to an average of 15 bottles per Brit each year. In fact, Britain imports the world's largest range of wines because the country has almost no domestic producers to protect. "Since we're neutral, even the people in Bordeaux realized that London was the right place for the world's largest wine extravaganza," says Vaughan-Arbuckle. There's a little something to tempt serious wine lovers, too. Vinopolis brings in wine experts such as author Hugh Johnson and Christie's wine auctioneer Michael Johnson to lecture. And it offers tastings of notable wines. In a recent Chteau Latour tasting, guests sampled the 1982, 1985, 1990, 1991, and 1993 vintages. Another recent evening featured great Alsatian Rieslings from the top grower Hugel. The entry fee was $115 per person.
STOCK LISTING? Vinopolis is unabashedly commercial. "Anyone who wants his wine displayed must pay us," Vaughan-Arbuckle admits. The more one pays--up to $8,250 per year--the better their exposure. So you won't see many trophy wines--they don't need the promotion. And wines such as Beaujolais, which some connoisseurs deride, are promoted as quality products.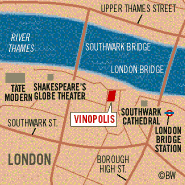 But that doesn't bother most Vinopolis visitors. "The world of wine often is so forbidding," says Stuart James, a retired office manager who has just emerged from the room where visitors taste champagne. Says Sandy McKenzie, a designer for the Internet who has just used up her five tickets for five glasses of wine: "I started drinking wine regularly two years ago, and this taught me a lot."
Such comments convince Vaughan-Arbuckle that he has a winner. He's planning to install the axed Sistine Chapel of Wine and several other exhibits, then he wants to list shares of Vinopolis on the London Stock Exchange, probably by the end of this year. And he talks of franchising Vinopolisess around the globe, the first either in New York or that other monument to good taste and refined living, Las Vegas.
Before it's here, it's on the Bloomberg Terminal.
LEARN MORE